Maine Fair Trade Lobster is in hot water after an eyewitness video captured workers dismembering conscious lobsters by tearing off their claws, puncturing their shells, and ripping their heads off.
Despite being torn limb from limb, the animals remain alive and in agony. One worker said they live for hours in that state. Mutilating lobsters does not cause them to die instantaneously – it causes them pain and suffering, all of which is prohibited by Maine law.
When PETA first received the video, we were disgusted but, unfortunately, not surprised. This horrific practice is standard operating procedure for Maine Fair Trade Lobster and evidently also common in the Maine lobster industry. PETA found live animals being torn apart at the now defunct Sea Hag Seafood processing plant in 2012 and again at the Linda Bean's Maine Lobster processing plant in 2013. Some lobsters were left to die in garbage bins.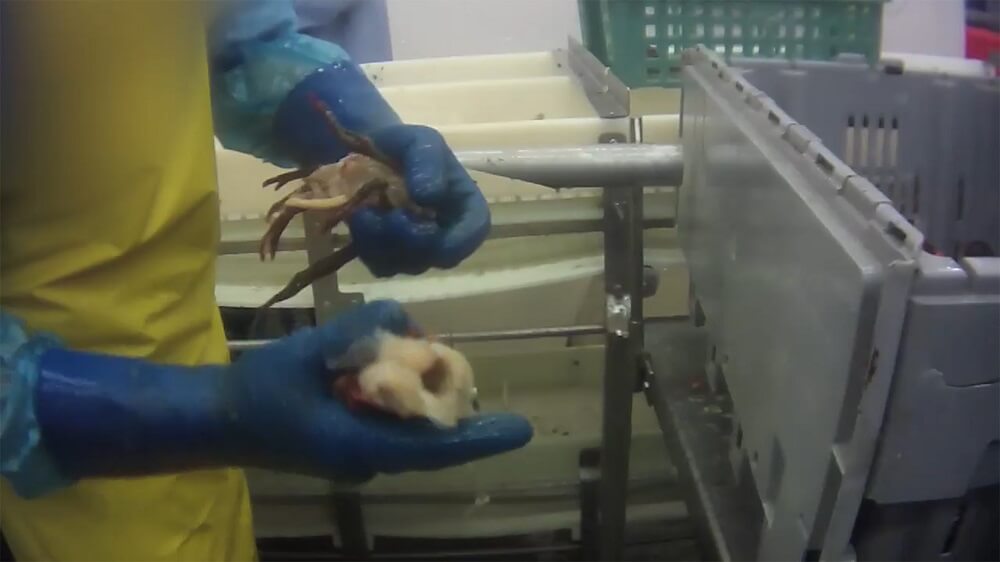 Scientists have determined that lobsters, like humans and all other animals, feel pain. But lobsters don't enter a state of shock when injured, so they feel every moment of their slow, painful death.
Dr. Robert W. Elwood, professor emeritus of animal behavior at Queen's University Belfast, who has published dozens of articles in numerous peer-reviewed journals, including on pain and stress in invertebrate animals, such as the lobster, reviewed the footage and concluded that "it is clear that the animals are alive at the start of the process and that they are dismembered whilst alive with no attempt at stunning or killing. The scientific evidence is consistent with the idea that this group of animals is capable of pain experience …"
Maine Fair Trade Lobster—a subsidiary of East Coast Seafood Group—is one of the largest lobster-processing facilities in the state, according to the company. It supplies parts of lobster corpses to major food sellers such as Costco and Giant Eagle.
PETA has filed a complaint with the Gouldsboro Police Department, and an investigation is underway. We're also urging corporate buyers of lobster "products" to reconsider their relationship with East Coast Seafood Group while this practice is still going on.
Most people would never dream of mutilating or boiling a dog or cat to death, but it's just as cruel to do that to a lobster.
Sure, we may look vastly different from lobsters or other sea animals, but when it comes to all the important qualities, like feelings, personalities, and the will to live, we're all the same.
Thankfully, society is finally taking action against some of the horrendous ways that humans kill lobsters. Both New Zealand and Switzerland have outlawed the practice of boiling live lobsters, and a city in Italy has done the same. Italy's highest court ruled it illegal to keep lobsters on ice prior to dying, as doing so causes them to suffer needlessly. Switzerland also prohibits transporting lobsters on ice or ice water to avoid unnecessary pain and suffering.
But as this shocking video from Maine Fair Trade Lobster has shown us, we must do more for vulnerable sea animals.
What You Can Do
The most compassionate thing you can do for all animals is to go vegan. You'll be preventing nearly 200 of them every year from enduring violence and a slow, painful death.
Click the button below to urge grocery chains to reconsider their relationship with East Coast Seafood Group until it stops the live dismemberment of lobsters.