Athletic apparel company Lululemon refuses to drop down feathers from its lines despite knowing that birds used for down suffer on farms, primarily in China, where there are no laws regulating their treatment. And regardless of how the feathers are obtained—whether they're plucked from birds' bodies while they're still alive or come from birds who are killed for their flesh or foie gras—all geese used for down spend their entire lives in crowded, filthy conditions on factory farms before being violently and painfully killed.
 That's why at Lululemon's annual meeting on Wednesday, PETA—which owns stock in the company—will speak in support of its shareholder resolution calling for a company ban on down.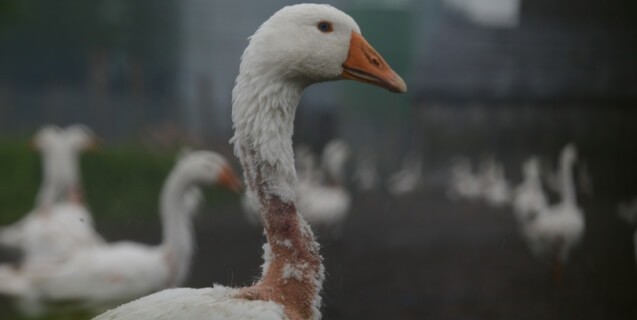 © Friedrich Mülln
"Consumers are increasingly concerned about the way animals are treated and killed for food and clothing," says PETA Executive Vice President Tracy Reiman. "It's time for Lululemon to get with the times, use the array of synthetic and natural options that are available, and eliminate cruelly obtained down feathers from its lines."
As revealed in a video exposé of down by PETA—whose motto reads, in part, that "animals are not ours to wear"—workers typically lift the birds by their necks or delicate wings, pin the animals between their knees, and rip the feathers out of struggling birds' skin. They're often plucked so hard that their skin is torn open, and the hurried workers sew up the wounds with a needle and thread—without painkillers. Buying down may also support the cruelty of the foie gras industry, as producers often boost their profits by selling the feathers of the ducks and geese who are force-fed by having tubes rammed down their throats until their livers become diseased and swell to up to 10 times their normal size.
Modern, high-tech synthetics are widely available, including at Lululemon, which already offers some PrimaLoft-filled jackets. They're also warm, cozy, and allergen-free, and they don't collect the dust and mould that down does. And unlike down, they still insulate when wet.