This weekend, PETA's Empathy Center in Echo Park will host the group's first-ever Holiday Kind Market. Shoppers will be able to pick up delicious treats, clothing, jewelry, beauty products, home goods, companion-animal supplies, and more—all from local, cruelty-free vegan vendors—and 10 percent of all sales will go toward supporting PETA's lifesaving work to help animals.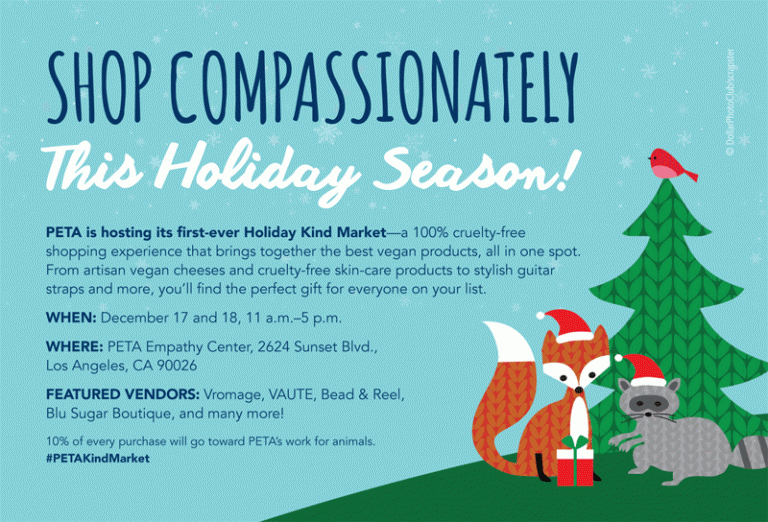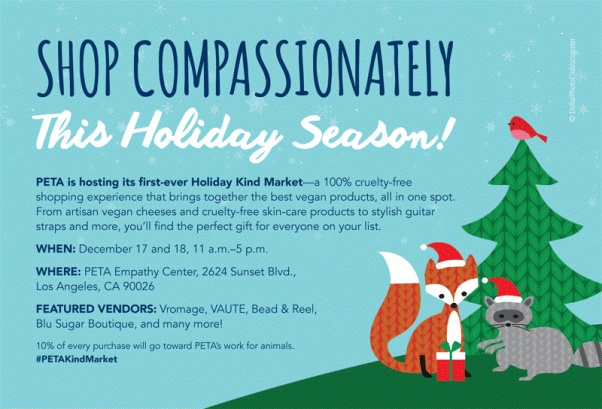 When:    Saturday and Sunday, December 17 and 18, 11 a.m.–5 p.m.
Where:    PETA Empathy Center, 2624 Sunset Blvd., Los Angeles
"Whether you're shopping for yourself, Fido, or a friend, PETA's Holiday Kind Market will have the perfect gift for you," says PETA Executive Vice President Tracy Reiman. "By buying a delicious vegan snack or a beautiful wool-free coat, shoppers can support local companies while helping PETA protect animals around the world."
The PETA Empathy Center is dedicated to teaching the values of justice, respect, understanding, and compassion for all living beings, regardless of race, religion, ability, gender, or species.
Local favorites at the Holiday Kind Market include vegan cheese shop Vromage, Donut Farm, Bead & Reel, Vaute, Blu Sugar Boutique, and many more.