London Fashion Week has just kicked off, and thanks to activists on site, fur is nowhere to be found.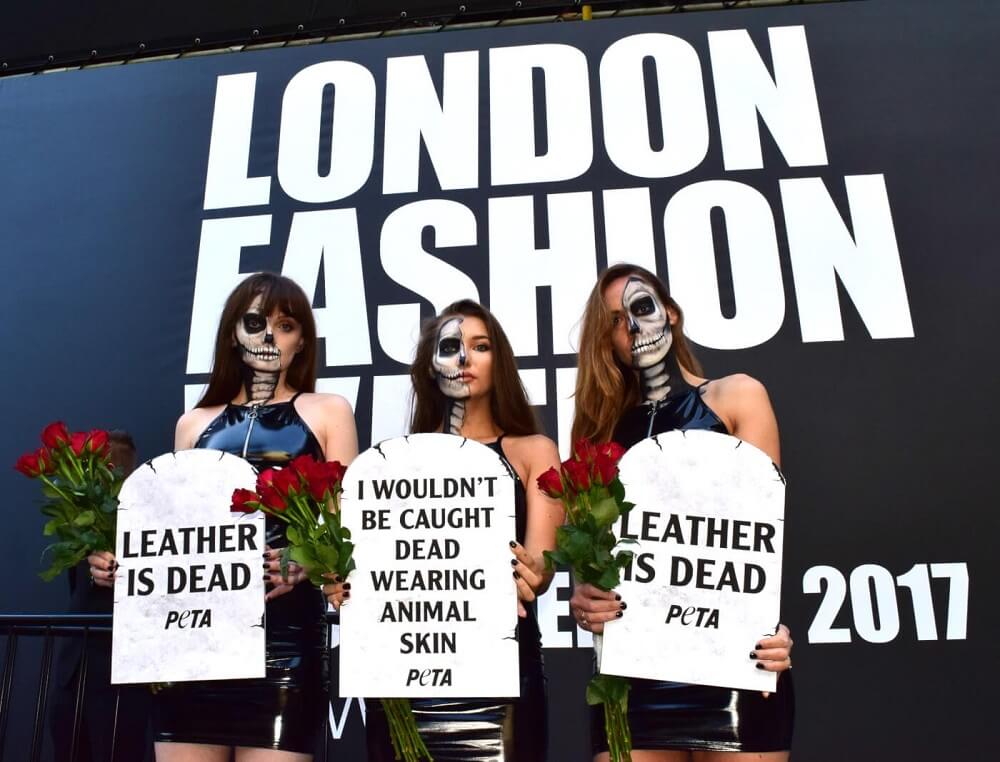 On Thursday afternoon, Fashion Week attendees received an official British Fashion Council e-mail advising people to ditch fur, as protesters were out in full force.
"We have been made aware that there might be fur protesters outside … on the afternoons of Friday, Saturday and Sunday of London Fashion Week," the e-mail reads. "We are managing the situation … to ensure the demonstration is managed correctly and with limited impact. For this reason, we would advise you to avoid wearing any kind of fur, real or fake, on Friday, Saturday and Sunday."
This alert to Fashion Week attendees came at the same time as a trio of models and PETA U.K. supporters took to the streets on opening day, wearing skeleton face paint and vegan leather getups with signs proclaiming, "Leather Is Dead" and "I Wouldn't Be Caught Dead Wearing Animal Skin."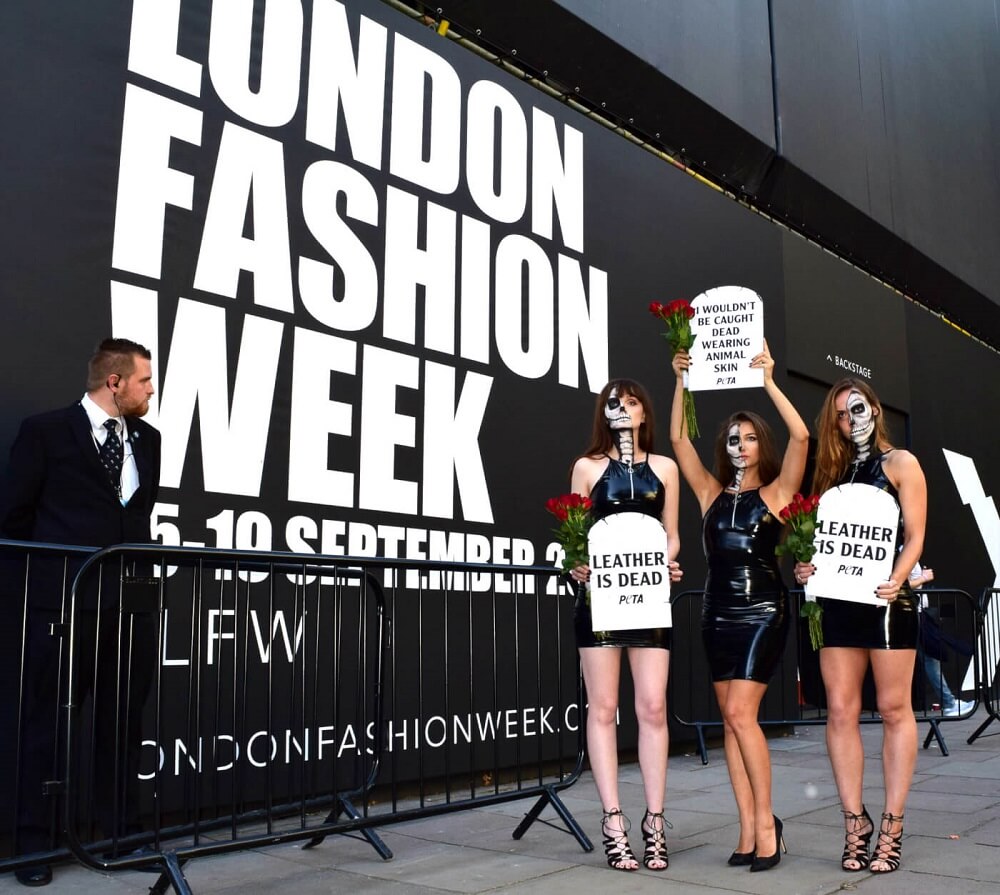 We hope the memo from the British Fashion Council and PETA UK activists' honest display persuade showgoers to think twice about their animal-derived fashion. It's also exciting to know that several emerging British designers, such as Shrimps and Simone Rocha—companies that are admired for their innovative faux-fur styles—are some of the most anticipated at this year's Fashion Week.
Millions of animals around the world are beaten, electrocuted, and skinned alive for their fur.
Whether the fur comes from China, where there are no penalties for abusing animals on fur farms; Sweden, where minks have been forced to live with open head wounds and severe infections; or the U.S., where foxes are gassed to death and electrocuted, all fur production involves cruelty to animals.
Eighty-five percent of the fur industry's skins come from animals held captive on fur factory farms, which often confine thousands of animals, and the kinds of abuse that the workers engage in are remarkably similar around the globe.
The leather industry is no better, and it also involves millions of dogs and cats.
Cows whose skins are turned into leather endure tail-docking, dehorning, and castration—all without painkillers. Unborn calves—whose skin is considered a "luxury" material—are mutilated for leather as well. Some are purposely aborted, while others are cut out of the bodies of slaughtered pregnant cows.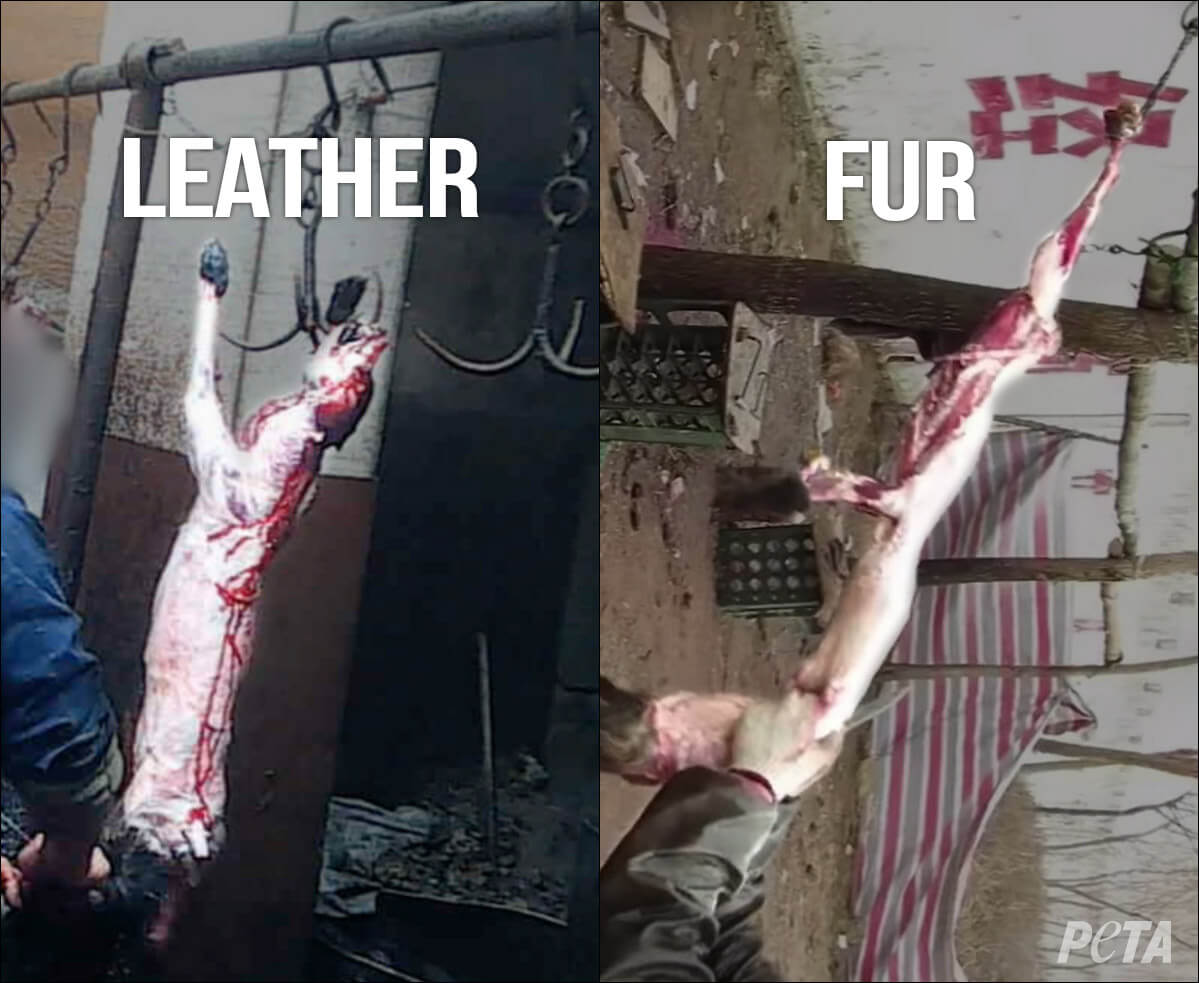 As PETA Asia exposed, even dogs are being bludgeoned and killed so that their skin can be turned into leather accessories. Goods made from dog or cat leather are often mislabeled, exported throughout the world, and sold to unsuspecting consumers. Violence is wanton and inevitable in any industry that treats sentient beings as mere objects and robs them of their autonomy.
What You Can Do
In the 21st century, cruelty is a choice. With so many stylish, comfortable, and durable vegan leather alternatives and faux-fur options, there's no need to be cruel to stay warm and look amazing.
Take a stand against cruelty to animals by signing PETA's fur-free pledge today!