My favorite part about the holidays (actually … maybe my second favorite—next to feasting on my mom's famous Cashew Nut Roast) is how people come together to help those in need. While we're all toasty indoors, dreaming and hoping for a "White Winter," countless "backyard dogs" will not do so well in the ice and snow, struggling just to keep alive on freezing winter nights. To help these dogs, PETA staffers spend every winter weekend helping ease the pain in their joints by delivering sturdy dog houses and straw to man's best friend.
After learning about all this, a class of third-grade students at Samuel Staples Elementary School in Connecticut and their teacher Ms. Ellen Linker raised over $800 for the dogs—for the second year in a row. Wow!
Well, this class definitely gives me that fuzzy feeling deep inside. To show the students how much we appreciate their dedication to animals, we'll be sending along a holiday package filled with comic books, stickers, a copy of Ingrid Newkirk's book 50 Awesome Ways Kids Can Help Animals, and a card signed by PETA staff members. Please post a comment below to join us in thanking these students who gave up their lunch money and allowances to help animals in need.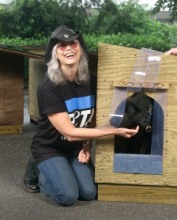 Country superstar Emmylou Harris delivers a dog house with PETA
I hope the actions of these generous students inspire you to be an "angel" for a freezing, lonely backyard dog this winter. Do you think your school, office, family, or friends would want to pool funds to purchase a doghouse? That would be perfect! Together, we can make sure that dogs who would have shivered through long, cold nights have a dry place to curl up in and try to be warm.
And please remember to tell everyone—maybe put up a flyer?—that animal companions should always be a part of the family. This holiday season (and all year long), please take your dogs inside.
Written by Liz Graffeo