Oh, how we love Olivia Munn. In her Us Weekly "25 Things You Don't Know About Me" Q&A, she wrote: "I believe in rescuing your pets, not buying them." You're in good company there, Olivia. Loads of celebrities are fans of animal shelters, including Orlando Bloom, who rescued his dog, Sidi, seven years ago and has enjoyed having him right by his side ever since. 
We can easily name 25 things that we love about Pamela Anderson. Just this week, as she headed into the Celebrity Big Brother (UK) house, she sent a letter to the European Commission, asking it to institute the ban on animal-tested cosmetics in 2013, instead of delaying it, as the commission has discussed doing. Then she proposed a deliciously kind idea to her new housemates: She will introduce them all to heavenly vegetarian cuisine, and the entire show will be cruelty-free.
Fellow vegetarian Ke$ha is proving that blondes really do have more (animal-friendly) fun by designing a new line of faux-fur clothing and accessories. 
Maybe they'll become one of Oprah's favorite things. The Editor's Note in the October issue of O reads, "And there's one [trend] that O has decided to skip, not just this season but in every issue since the magazine began: garments made of real fur. . . . That is not to say you won't find exotic animal skins and feathers in O's October issue; it's just that they're still attached to the living creatures that grew them."
Well said! And these stars are eloquent about animal issues in 140 characters or fewer: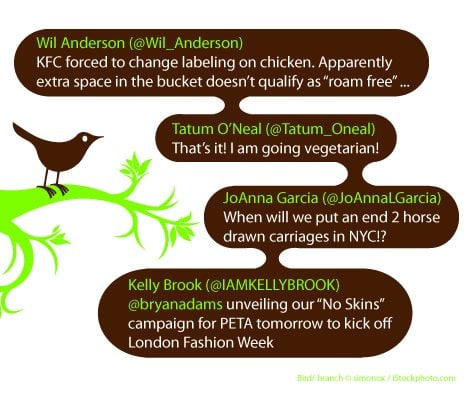 Written by Michelle Sherrow