Yesterday, crowds descended on Los Angeles' Staples Center to pay respects to the "King of Pop," but it was "Her Royal Hotness," PETA's Lettuce Lady, who stole the show outside Michael Jackson's memorial. Wearing only her signature lettuce bikini and a single, white sequined glove, Christina Cho held a mirror reading, "Go Vegetarian for the Man in the Mirror."
A line of reporters from local television stations and newswires, including Associated Press and Reuters, waited to talk to PETA's Lettuce Lady.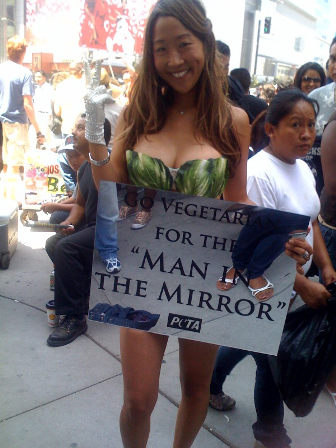 Her message was inspired by Michael Jackson's hit, "The Man in the Mirror," which pondered the impact of personal change:
I'm gonna make a change,
For once in my life,
It's gonna feel real good,
Gonna make a difference,
Gonna make it right . . .
What's the easy answer for those who want to make a difference in their health, animal suffering, the environment, and starving children like those featured in the song's video? Go vegetarian!
Our message was simple: Take a moment to reflect, and then "make that change."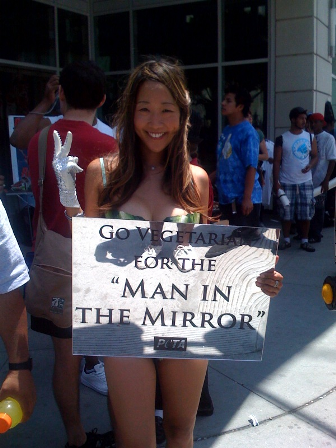 Written by Karin Bennett