PETA's Lettuce Ladies are on the road again! And this time they're kicking America's poor eating habits to the compost heap.
The lettuce-clad ladies are hittin' the streets to greet folks with delicious and free Tofurky sandwiches. Their goal: to get people to turn over a new leaf and go vegetarian for the new year. Check out these photos from the road:
Lettuce Lady and satisfied Tofurky customer in Iowa
Lettuce Ladies adored by the masses in Nebraska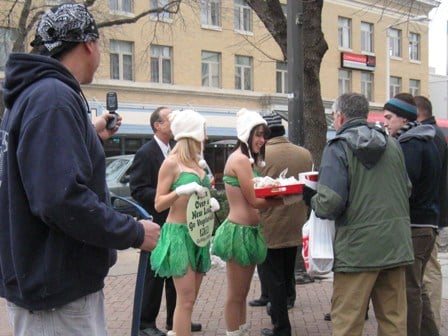 The Lettuce Ladies don't have to be the only sexy veggies roaming the streets. If you make PETA's 30-Day "Pledge to Be Veg" before the end of the month, we will donate money to a program that plants fruit trees! Now, you can help yourself, the environment, animals, and the hungry just by making one simple change to your diet. That's a pretty sweet deal.
Written by Jennifer Cierlitsky