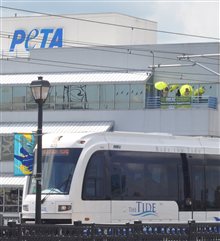 PETA is helping mass-transit passengers go even greener. When Norfolk, Virginia's new light-rail train made its maiden voyage past our headquarters, the Lettuce Ladies were on hand—and on the balcony—to make the inaugural run memorable.
With their cabbage couture and "Climeat Change" sign, the ladies showed passengers (and enthusiastic construction workers) that dumping meat, the number one cause of climate change, does even more good for the planet than taking public transportation. Riders were waving, snapping pictures, and giving thumbs-up signs—and, we hope, they were keener to be greener at their next meal as well.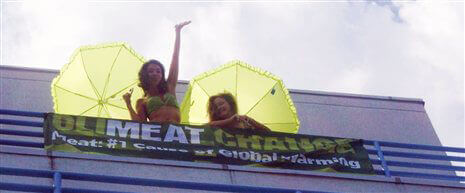 It is easy being green—we'll help get you started with a free vegetarian/vegan starter kit.
Written by Michelle Kretzer