Sometimes, when you have serious concerns about the way something's being done, you just have to take it to the top. And PETA Vice President Bruce Friedrich, who takes in all the latest political happenings with his bran flakes and soymilk every morning, has no qualms about doing exactly that. Bruce just dashed off a letter to President Bush offering a "modest proposal to help you win over your critics" about global warming. As Bruce puts it:
"It is past time for all those involved in the debate over global warming to acknowledge that what we eat has far more impact on the climate than the cars that we drive or the light bulbs that we use."
The letter, which you can read here, details a comprehensive plan of action for fighting climate change by going straight to the source—the meat i
Bruce Friedrich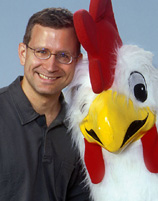 ndustry. As I may have pointed out before, any debate about how to deal with the crisis of global warming will be stymied at the outset unless it includes a serious discussion of the environmental devastation caused by the meat industry—an attack on the Earth's resources that is far more dangerous than anything else you can think of, including the usual suspects: SUVs, jumbo jets, power plants … all those bad boys. Anyway, the point is that if we want to get serious about combating global warming, we need to stop squeezing ourselves around that big ol' elephant in the room, no matter how powerful their lobby is.
Bruce's arguments are much more cohesive than mine, though, so you should definitely check them out here. Note how he slips in a vegetarian starter kit for the President to peruse when he has a free moment. Love it.