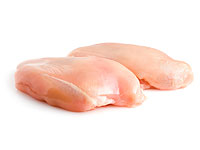 I'm just going to come out and say this: PETA is offering 1 million dollars (say it in your best Dr. Evil voice) to the first team of scientists that can develop a method to produce commercially viable quantities of in vitro (lab-grown) chicken meat.
The figure was reached by a team of math nerds working in PETA's basements who have determined that 1 million is actually very close to the number of chickens killed every hour in the United States—so there's a nice element of symbolism to the offer as well. But symbolism aside—we're deadly serious about helping to fund developments in this new science, which has the potential to end the suffering of literally billions of animals if a commercially viable lab meat is made available. As PETA President Ingrid Newkirk puts it:
"People are surprised to learn that PETA is interested in lab-grown meat, but we have overcome our own revulsion at flesh-eating to champion a breakthrough that will mean a far kinder world for animals. One million dollars is a lot of money, but it's a small price to pay for something that has the potential to save about 1 million lives every hour."
To qualify for the prize, scientists in the field must be able to produce a quantity of meat that is sufficient to market in at least 10 U.S. states at a price that is competitive with prevailing chicken prices.
There's plenty more information on our contest page. Once you've had a look at it, let me know what you think. I'd love to hear from both vegetarians and meat-eaters—would you eat lab meat?