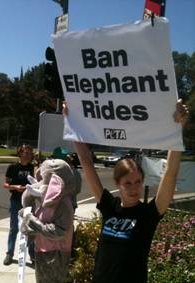 On a hot Labor Day weekend, Los Angeles–area residents showed their warm hearts by turning out in droves to speak out against notorious elephant abuser Have Trunk Will Travel's (HTWT) elephant rides at the L.A. County Fair. Then, as the first demonstration was wrapping up, another wave of people came to protest, so fairgoers were treated to back-to-back demonstrations.
Standing outside a busy entrance and screening undercover footage that shows HTWT trainers as they strike and shock elephants, demonstrators received honks and waves of support from passing cars and handed out almost 3,000 leaflets to interested fairgoers. Because of the overwhelmingly positive response, chances are good that the elephants gave far fewer bullhook-prodded rides.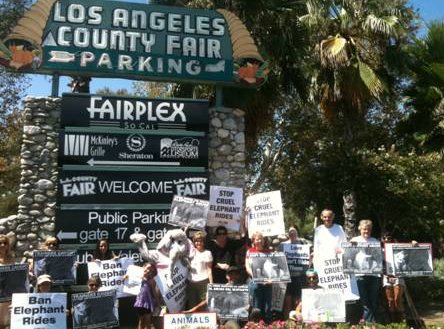 And we're not about to ease the pressure on HTWT or the L.A. County Fair—PETA has secured a demonstration spot near an entry gate to the fair for the rest of the month. As long as HTWT is trying to make a buck off elephant suffering, animal advocates will be out in force convincing fairgoers that their money is better spent on the Ferris wheel.
It's not too late for you to tell the L.A. County Fair to send cruelty to animals packing.
Written by Michelle Kretzer