Yes, the Kristen Johnston, and yes, she is starkers on that plastic horse.
Two-time Emmy Award–winning actor Kristen Johnston, whom you will remember as the hysterical Sally on Third Rock From the Sun, stripped down for PETA's new ad targeting the cruelty of the horse-drawn carriage trade. In this gorgeous tribute to Lady Godiva—another fearless activist—Kristen urges us not to "get taken for a ride," because horse-drawn carriages are cruel, not romantic. Check it out: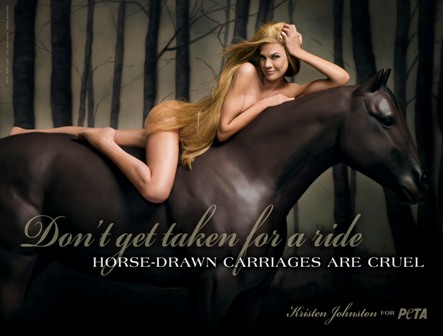 Yours truly was lucky enough to attend the launch of Kristen's ad—because it was in New York, natch, where a bill is being proposed that would ban horse-drawn carriages! Kristen's beautiful ad is displayed on more than 100 taxi tops all over the city, so we decided to show them off in the most natural place—in Central Park, just across the street from where the carriage drivers wait to pick up passengers.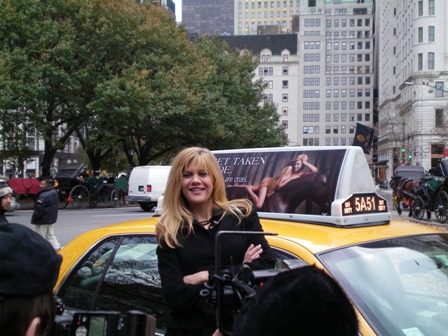 Kristen was very gracious about posing for the press, even hopping up on the hood of one of the taxis. She's a very classy lady, and was kind enough to take pictures with a few fans as well. One older lady was so excited when she saw Kristen that she went right up to shake her hand, and just beamed from ear to ear when she had her picture taken with the actress.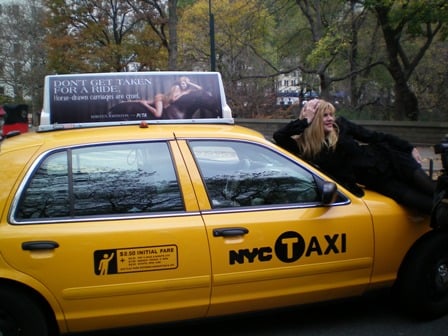 Kristen is just as funny in person as she is on screen, and it was a treat to work with her. She's also passionate about helping get the carriage horses out of their traces and off the streets—as are many people when they learn about the way the horses are abused. So once you're done staring at the ad, read more facts about carriage horses. And if you're a New York City resident, please contact your city council representative and urge him or her to support Councilmember Dan Garodnick's bill to replace the city's horse-drawn carriages with eco-friendly electric models of classic 1920s cars! How glam, right?
Written by Amanda Schinke