"My wife says I could live without a wife but I could never live without dogs," jokes Kirk Douglas. The Oscar-winning actor, producer, director, and author recently shared with PETA the lessons in love and friendship that he has learned from his two beloved Labrador retrievers, Danny and Banshee, who are rarely far from his side.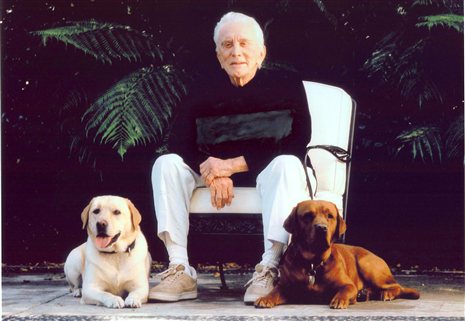 Photo courtesy of Kirk Douglas
Through all the busy years of his impressive career, Douglas says that he has found joy and solace with his dogs. "I've had dogs all my life …. They have never failed to give me friendship."
Banshee, a lively pup, is the newest member of the Douglas family and proved to be a great comfort to Danny and the rest of the Douglases after they lost their beloved Foxy about a year and a half ago. "[Foxy] always had health problems, and he could only see with one eye," Douglas says. "Danny became his Seeing Eye dog. [Foxy] is buried in our garden in Montecito."
The relationship that Douglas shares with each of his dogs is irreplaceable. "If I come home and the dogs are not there (they may be at the vet), the house feels empty. If you don't have a dog, you are missing a lot in life."
If you're ready to be a dog's best friend, visit your local animal shelter or check out Petfinder to see the many adoptable dogs in your area.
Written by Michelle Sherrow