Every once in a while, someone notices that women are featured in PETA's provocative ads and demonstrations more often than men are. It's not that PETA, as an organization, doesn't appreciate animal-loving, nearly naked men—it's just that usually the ads and demonstrations make more sense or will garner more attention to animal rights issues with women as the stars.
For instance, if young chickens were called "dudes," "guys," or "homeboys," I personally assure you that we would have called out the Broccoli Boys and there would have been a couple of male PETA volunteers at our recent scalding-tank reenactment demos (photos below). Alas, young chickens (the chickens killed for KFC are only about 45 days old when they are slaughtered) are called chicks. As are women. Global conspiracy or convenient protest idea? I can't say—but it is one thing we have to work with in the battle against KFC.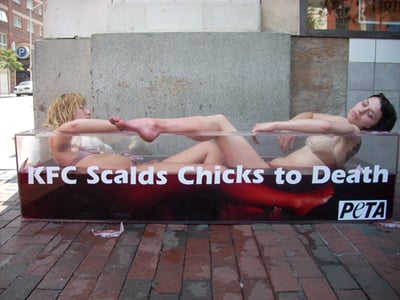 View image
PETA's latest demonstration highlights that while chickens killed for KFCs in Canada will soon be killed using the least cruel slaughter method available, birds killed for KFC in the U.S. are still scalded to death. It costs KFC more money, and it's just plain cruel.
Here are some details from our news release (it's not that I'm lazy—I just thought it was already well explained):
Because the voltage levels of electric stun tanks in U.S. slaughterhouses are kept at only a fraction of the level needed to render chickens insensible to pain, birds are usually paralyzed but still conscious when their throats are cut. Government studies show that birds feel pain after being shocked, even if they can't move. According to the USDA, every year, millions of birds—who are conscious and able to feel pain—enter tanks of hot water that are intended to remove their feathers after the birds are dead.
Great demo, Colleen and Shawn. And happy birthday, Colleen! I'm sorry you share it with the gruesome twosome.
More photos, wonderful photos:
—Joel Bartlett