When South Korean–owned Thoroughbred Knicks Go won the famed Breeders' Cup Classic horse race, one activist slyly stole the spotlight—and sent a powerful message to the Korean horse racing industry. Dressed like a K-pop fan of Korean music, this activist got herself invited right into the winner's circle, where she unfurled a sign with a message that American media—which snapped photos and videos later seen around the globe—couldn't decipher but that Koreans couldn't miss: "Korea Racing Authority, how dare you turn racehorses into dog food!"
Knicks Go wins! And South Korean activists invade #BreedersCup. @DelMarRacing President Joe Harper doesn't know that the sign says 'Korea Racing Authority, how dare you turn racehorses into dog food!' pic.twitter.com/HfxGHQjKjo

— PETA (@peta) November 7, 2021
The K-pop fan impersonator looked like a party girl, but she was there on a mission: to expose the Korea Racing Authority's (KRA) disgraceful practice of sending cast-off racehorses—some just 2 or 3 years old—to slaughter. PETA exposed the bloodbath in 2019 with the first-ever video from inside the Nonghyup slaughterhouse. Some of the horses loaded into the slaughter chute were U.S. horses who had been sold to the racing industry in South Korea.
Most in American racing look the other way as they pocket the profit and sell American-born horses to Korea, knowing that they will eventually end up on a dinner plate or in a can of dog food. Only the Stronach Group, which owns a number of racetracks in the U.S., banned sending horses to South Korea after viewing PETA's video.
To get to the winner's circle, the activist befriended several high-profile racing officials at the San Diego track's most famous racing weekend of the year, including Del Mar President and CEO Joe Harper, who reportedly quipped, "I hope that sign doesn't say, 'I hate Joe Harper.'"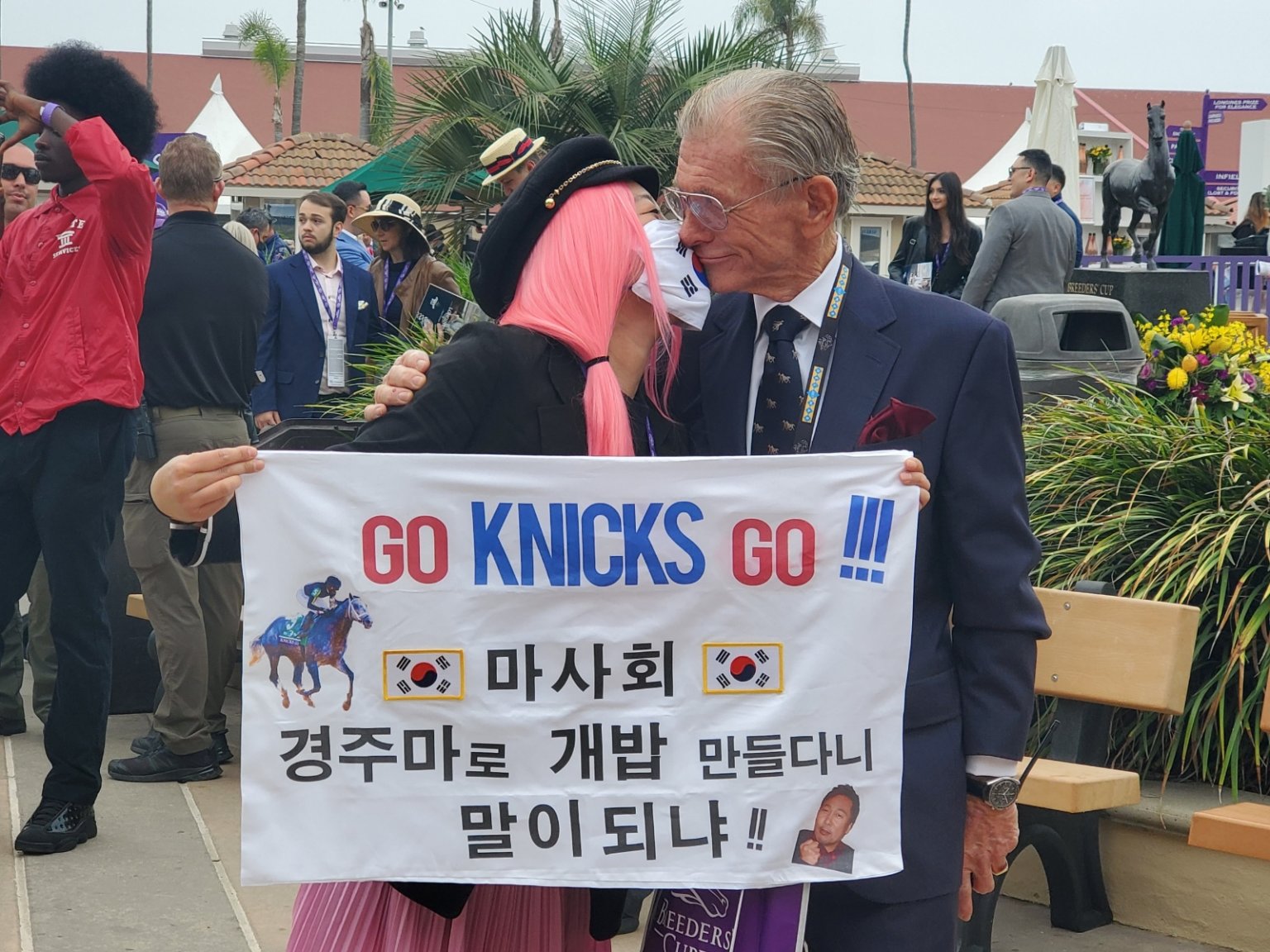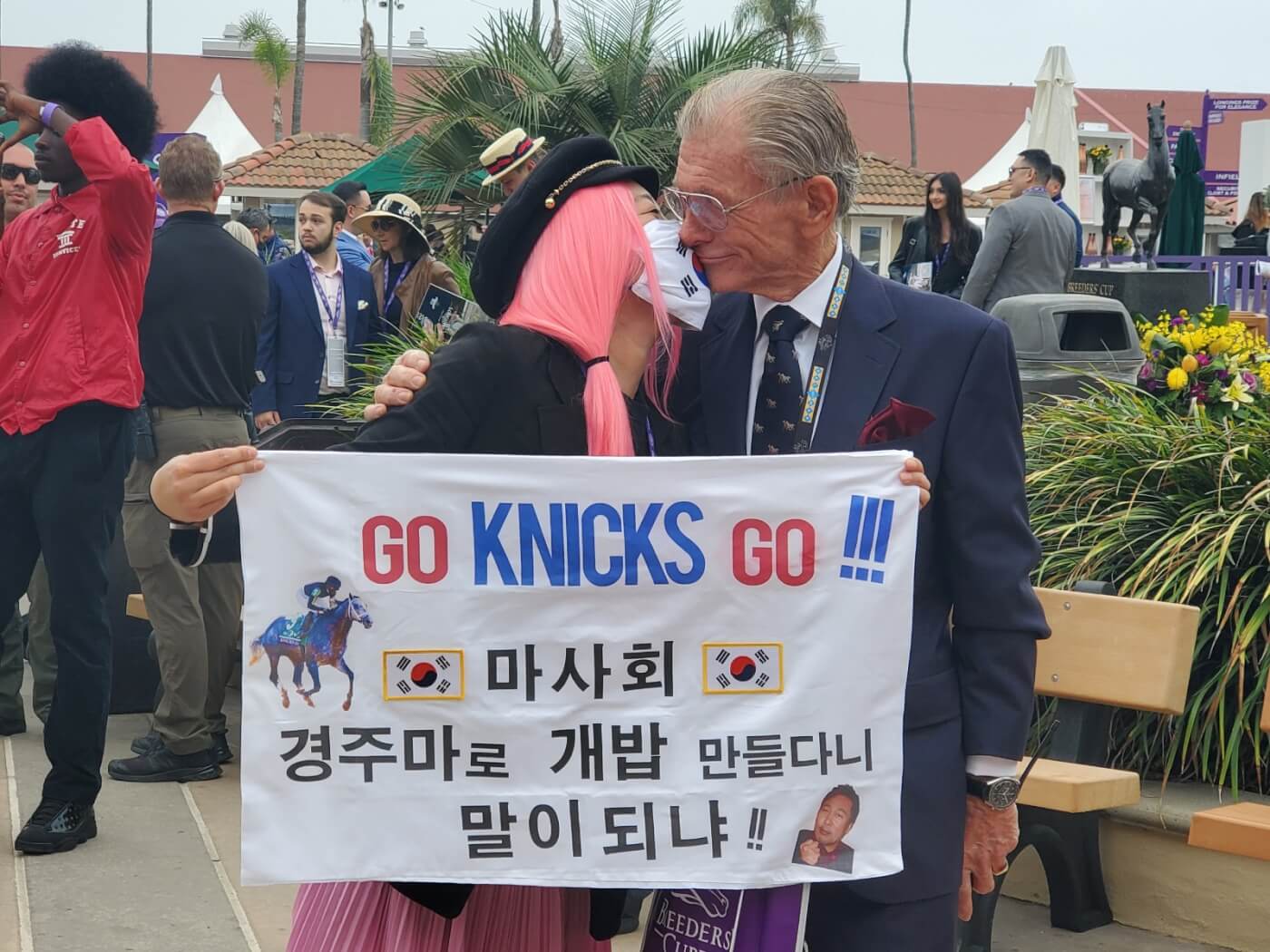 To make sure the KRA couldn't miss the message, "Ms. K-Pop" managed to get a picture with the organization's own U.S. representative—who couldn't see the sign.
Korea Racing Authority U.S. rep at #BreedersCup couldn't see the sign held by this South Korean activist: Korea Racing Authority, how dare you turn racehorses into dog food! pic.twitter.com/CHqX1M1WKB

— PETA (@peta) November 7, 2021
PETA's investigation turned South Korean racing upside down. The slaughterhouse and its workers were prosecuted for killing horses in full view of others, but the KRA must commit to developing a comprehensive retirement program for all horses.
Knicks Go winner of the Breeder's Cup Classic pic.twitter.com/HMId61EET3

— Horse-Races.Net (@horseracesnet) November 7, 2021