Despite overwhelmingly sad video and photographic evidence of lame, thin, and downed cows left to suffer and die and a cow whose teat was banded and left to decay and fall off—not to mention expert testimony that all this constituted cruelty—a judge whose courtroom was packed with dairy farmers today found the owners of Reitz Dairy, a filthy Land O'Lakes supplier in Pennsylvania that PETA investigated last year, not guilty.
Conditions like these were defended as "standard dairy practice"!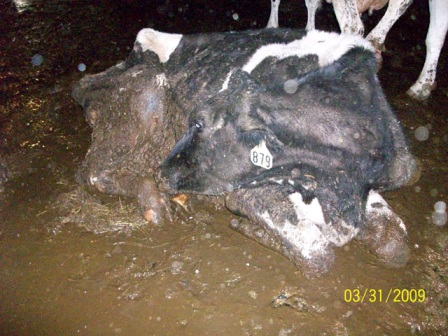 Share on Facebook | Viewing Options
Embed

PETA's investigator found cows on this factory dairy farm collapsed, lame, and struggling to hobble through a deep soup of feces and urine in the perpetually filthy conditions. Cows suffering from painful infections and severe lameness were deprived of even basic care; dying cows were not even put out of their misery. PETA's video shows injured cows as they are kicked, shocked with a high-voltage electric prod, and jabbed along the spine with the open blade of a pocket knife.
A little pat of butter? PETA has brought the abysmal conditions on this farm to Land O'Lakes' attention, but the company is doing nothing to prevent such abuse and neglect on its suppliers' farms and continues to buy from Reitz Dairy.
Cows are great mothers, loyal herd members, wise, and gentle. Studies show that they will sacrifice their own interests for the benefit of the group and that they communicate in subtle ways with facial expressions that we can't even register. When they figure out a puzzle, such as how to open a tricky gate, they have a "eureka moment" and jump for joy.
Because cows cannot rely on the law to protect them, it's up to every concerned person to take a stand—to vote against cruelty with our shopping cart. As this case has vividly demonstrated, milk, cheese, and butter do not come from "happy cows" who frolic in lush green pastures. They come from miserable cows confined to crowded, muck-filled barns—cows who are forcibly impregnated, only to have their newborns yanked away from them so that humans can drink the milk that nature intended for their calves.
That's why we must continue to pressure Land O'Lakes to, at the very least, implement the 12-point animal-welfare program that PETA has recommended. And each one of us needs to "file charges" against factory farms every time we shop by refusing to purchase their ill-gotten products.
Written by Alisa Mullins