Late last year, one of PETA's fieldworkers answered a request for a PETA dog house, and she spotted Buxton—then just 8 weeks old—hobbling down the road by himself. When she went to pick him up, he screamed in pain and wet himself. It turns out that his harness had become embedded and had caused deep gashes under his arms and across his chest—the wounds reeked of infection and were oozing pus.
Knocking on neighborhood doors didn't turn up anyone who knew the pup, so PETA's fieldworker, Misty, rushed him to an emergency veterinary hospital where the harness was cut away and his wounds were treated. The vet estimated that the harness had been cutting into Buxton's body for at least two weeks.
Following a lead, our field staff eventually did find Buxton's "owners"—a mother and son—and they told us to keep him. We filed charges against them, of course, and in April, Catina Beasley and Calvin Holland were found guilty of cruelty to animals. They have both been permanently barred from owning animals, and Holland was ordered to pay a $100 fine and nearly $400 in restitution for Buxton's medical care.
As for Buxton? Here he is with his new family:
Buxton has traded in his old harness for something more fitting.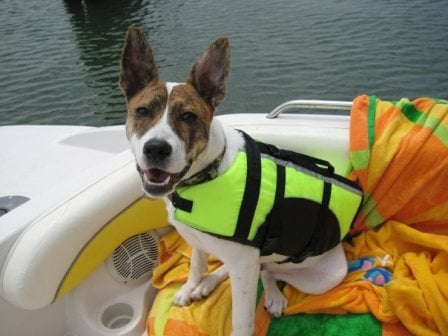 Of course, not all dogs are as lucky. Our case workers are deluged with calls. Animals are poisoned, beaten, starved, and neglected—some have even have their mouths duct-taped shut for "barking too much." Cats and dogs are put into microwaves, dismembered, sexually assaulted, hanged, set on fire, bludgeoned, buried alive, and otherwise tortured and killed. Please do something to help, and be an advocate for them all. Being heartbroken doesn't cut it. If you suspect that an animal is being neglected or you witness cruelty to animals, don't hesitate: Report it to your local law-enforcement agency immediately and follow up until it's resolved.
Written by Amy Elizabeth