Best Cat in the Universe: Ziggy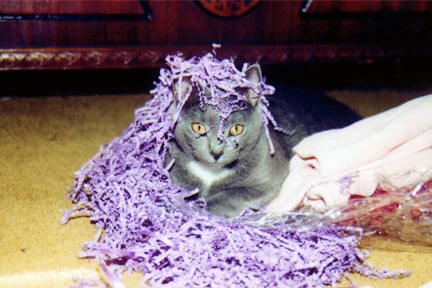 Just think—the next Best Cat in the Universe could be waiting for you at your local animal shelter. Kinda gives you goose bumps, doesn't it? If you have the energy, resources, and, most importantly, lap time to devote to a feline companion, you can't go wrong by adopting a cat from an animal shelter. But just in case you need some convincing, here are the top 10 reasons why shelter kitties rule:
You'll get the best selection in town—animal shelters are usually full to overflowing (unfortunately) with cats of all shapes, sizes, ages, energy levels, and temperaments.
Shelter cats are often already spayed or neutered (or else the cost of the surgery is included in the adoption fee). What a deal! Animal shelters also often throw in lots of swag, such as cat food, toys, and treats.
On a related note, shelter cats are almost always already housebroken, and many have been trained to use a scratching post too.
Many shelter cats are adults whose personalities are already developed, so you know what who you're getting.
Lots of shelter cats are mixed breeds who are less likely to inherit the congenital defects that plague (inbred) purebreds, including heart and eye defects and cleft palates.
If you have kids, having a cat can actually help prevent them from developing allergies.
No need for an electric blanket (or a masseuse)—cats make excellent bed-warmers.
No need for a big-screen TV, either. Cats provide all the entertainment you need.
You will finally learn the answer to the question "What do you do with an empty paper bag?"
And the number one reason for adopting a shelter cat is, of course, that you're saving a cat's life. Which is really the only reason that matters, isn't it?
Written by Alisa Mullins
P.S. After you've given a kitty a forever home, you should check out this book: 250 Things You Can Do to Make Your Cat Adore You.