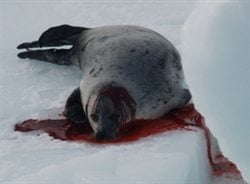 © Sea Shepherd Conservation Society
PETA U.K. is lambasting the judge who let convicted thief Jack Taylor out of serving jail time so that he would be free to kill baby seals and sheep.
Taylor admitted to stealing a motorcycle because he thought there were drugs under the bike's saddle. But instead of throwing the self-confessed burglar into the slammer to ponder his crime, the judge sentenced Taylor to a mere 100 hours of community service so that he could return to his two jobs: slaughtering sheep in Norway and traveling to North America seasonally to beat baby seals to death.
PETA U.K. blasted the sentence, saying, "Imagining that criminals might reform their deviant, anti-social behaviour by bludgeoning baby seals to death is not only delusional but also downright dangerous."
It is not surprising that a career animal abuser appears to be headed for a life of crime. What is surprising is that the judge apparently ignored the fact that there is a strong link between violence against animals and violence against people and that Taylor's crimes could very well escalate. Only by taking cruelty to animals seriously—reporting it when it is illegal and protesting it when it isn't—can we hope to quell the incidence of crimes against people.