Johnnie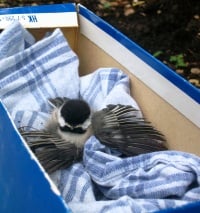 Meet Johnnie, a badly injured black-capped chickadee who was at least lucky enough to be found by a compassionate Illinois family that called us for advice. This young bird had a broken back. PETA caseworkers guided the family through safely containing Johnnie and made sure that he was rushed to a veterinarian for assessment. Johnnie's injuries were terribly painful and debilitating, so the vet did right by him and quickly ended his suffering. Even though Johnnie couldn't be saved, the family could rest assured that they did the right thing by not hesitating to help an animal in need.
You'd have to have a heart of stone to see a struggling fledgling or other small animal and not want to help. Of course, in most cases, letting the animal's mother take care of business is exactly the right thing to do. If you see a bird or other small animal and wonder if he or she is in trouble, stand back, wait, and watch before doing anything. If the animal is alert, upright, and calm, then he or she is probably healthy and Mom is likely nearby. But if the animal is lethargic or has an obvious injury, like Johnnie, stay with the animal and call your local humane society, the SPCA, animal control, or a reputable wildlife rehabilitator for advice. If you still need help, contact PETA pronto!
Other birds need your help right now, like the grackles who are frequently poisoned in Odessa, Texas.
Our emergency tips will give you everything you need to know about helping injured wildlife.
Written by Jennifer O'Connor