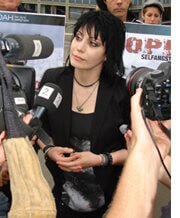 You didn't think Joan Jett would rest on her laurels after personally delivering an anti–seal slaughter letter to the Norwegian government earlier this week, did you? The rock icon has now set her sights on the San Diego County Fair, which is offering elephant rides from Have Trunk Will Travel (HTWT)—a name synonymous with cruelty to animals—at the Del Mar Fairgrounds, where Jett is scheduled to appear later this month. Jett dashed off a letter to fair organizers on PETA's behalf urging them to send HTWT packing.

I've seen the video footage released by Animal Defenders International that shows the owners and trainers with HTWT as they hit elephants as hard as they can with bullhooks and use electric shocks on the animals' bellies," writes Jett in her letter. "You can hear a grown elephant who bellows in pain and a baby who cries out while being jabbed repeatedly in the mouth and hit over the head. Please don't allow the reputation of the fair to be tarnished by its support of cruel elephant rides.

You can help by joining Joan Jett in urging the San Diego Fair to abandon its plans to offer cruel and dangerous elephant rides.
Written by Alisa Mullins