Check out this new PETA Europe ad starring international R&B singer Jamelia. She's blowing up in the British music scene at the moment, so I'm really excited about this ad. Having been born in England myself, I love it when another local guy or gal makes it as big as I have in the music game . . .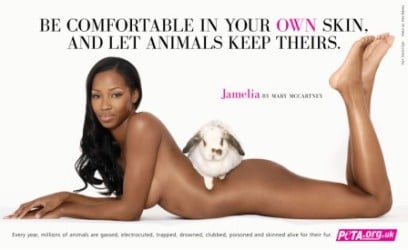 My mates in the UK released the ad during London Fashion Week and it is making a huge splash all over the international press. My favorite quote so far:
"The reason I decided to bare all for PETA was because I was educated about the inhumane ways animals are treated to retrieve their fur, and I think it's disgusting," Jamelia said.
I think I have a new crush . . . sorry Fernanda.