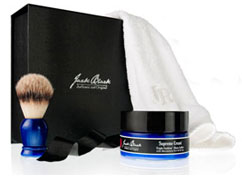 No, not that Jack Black … The Jack Black line of skin care products for men that's taken the world by storm, with rave reviews and awards from Men's Health and Esquire magazines. Now the company has teamed up with PETA to highlight its new cruelty-free Pure Performance Shave Brush with a contest over at CaringConsumer.com.
Until now, essentially all high-end barber shop quality shave brushes have been made with badger hair, so this is a real breakthrough. To be honest, I'm a little behind the uber-hip urban dude grooming curve. But even an emo guy like me can appreciate the fact that this brush helps guys get a nice clean shave, and more importantly, lets badgers carry on being badgers. It took years of development and commitment to make it happen, so PETA is presenting our Trail-Blazer Award to Jack Black cofounders Curran Dandurand and Emily Dalton for their commitment to developing products that are free from animal ingredients and never tested on animals.
The holidays are coming, so Mum and Dad, if you're reading, I really like the looks of this stuff . . . I'm just saying is all. Oh yeah, here's a direct link to the contest.