You heard me. We needed to know who was the cutest vegetarian child in the world, and thus began a painstaking, epic search throughout the land for the most adorable—but also compassionate re: animals—young lads and lasses that have been produced in the last 10 odd years of human procreation. Our quest for the World's Cutest Vegetarian finally came to an end when we happened upon young Caitlin Rosendorn of Bloomington, Illinois, and her male counterpart, the undeniably adorable Ian Kaminski of North Syracuse, New York, both of whom beat out a very tough field of extremely lovable little kiddies. So without further ado, ladies and gentlemen, I present to you the winners of this year's World's Cutest Vegetarian Kids contest—you can learn more about them at PETAKids.com. Out of sheer laziness, I've copied these bios from the text written by my good friend Patricia Trostle who runs our PETA Kids department.
Seven-year-old Ian Kaminski of North Syracuse, New York, is a proud vegetarian who never misses the chance to tell others what's wrong with eating meat. Ian's mom, Christina, tells us he's so compassionate that he knows he shouldn't even kill bugs and that after finding destroyed bird nests on the ground, he discourages his friends from climbing trees in order to protect other nests.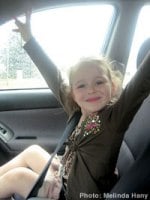 Caitlin Rosendorn loves Tofurky sandwiches and Morningstar Farms corn dogs, and when asked about being a vegetarian, Caitlin lets others know that she loves animals and doesn't want to eat them. Not only does this little lady with a heart of gold have a great sense of style—just look at that ensemble!—she also has great taste in music and loves female-fronted bands like Rainer Maria and Rilo Kiley.
I seriously can't get over the fact that this young lady is way into Rainer Maria. Not only is she precocious enough to have worked out the practical ethics of meat consumption for herself, but she already has the music taste of a disaffected Brooklyn scenester at the tender age of 6. I love it.
Congratulations, Caitlin and Ian! It's not always easy to make a compassionate choice like going vegetarian when a lot of your classmates are doing something else, but it's impressive as hell, and it's something that you'll never regret.