If every athlete with the New York Yankees and the Mets died this season, it would still be fewer deaths than the New York horse racing industry will see in 2015.
A new PETA ad running in today's The Saratogian newspaper and aimed at race goers planning to watch Triple Crown Winner American Pharoah run at the Travers at Saratoga Race Course on Saturday puts it bluntly: Imagine if the entire rosters of the New York Yankees and the New York Mets were killed every season. That's horse racing in New York—71 deaths and counting in New York state alone in 2015.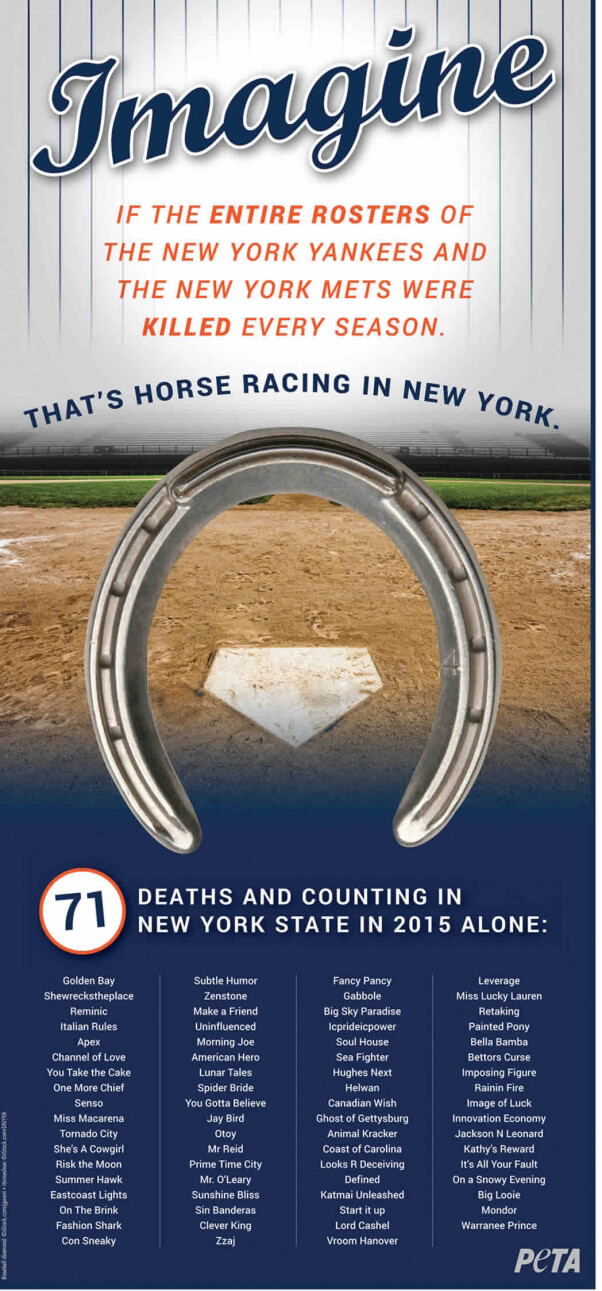 The ad lists by name every one of the Thoroughbreds and Standardbreds who has died so far this year. After the ad was submitted, another horse, Darling Bridezilla, died at Saratoga Race Course —on the very course where American Pharoah is scheduled to race—bringing the death toll to six dozen. The causes of death are often broken bones and "cardiac events," which are uncommon for equine athletes other than those in the racing industry. New York is the only state that is transparent about track deaths and reveals the names and circumstances of each fatality.  Last year, 127 horses died on New York tracks.
"Human athletes don't die in baseball games—why does the sport of horse racing come with a death toll?" asks PETA senior vice president Kathy Guillermo. "Before Americans plunk down their dollars on American Pharoah or any other horse, they should know that race horses die by the hundreds on U.S. tracks."
A 2012 investigation by the New York Times revealed that on average 24 horses die every week on racetracks in the U.S. and that a wide array of medications are often used to keep horses racing when they should be recuperating from injuries. PETA's investigation of Steve Asmussen showed that the trainer used many medications, including thyroid hormones for horses who had not been diagnosed with hypothyroidism.