PETA's Investigator Inside the Slaughterhouse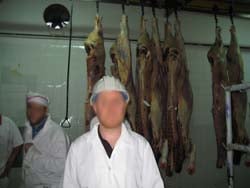 Last week, PETA revealed shocking footage taken inside a South American slaughterhouse which exports kosher meat to the U.S. The abuse our investigator found was especially horrific due to the use of a method called "shackling and hoisting," which is extremely painful and frightening for the animals. I spoke with the investigator yesterday to discuss his experiences working on this case:
What was the most difficult thing about this investigation for you?
Being Jewish, I grew up believing that kosher food was better supervised and therefore cleaner, healthier and produced more humanely. Like the famous kosher slogan, I thought the kosher food industry always "answered to a higher authority." It was disillusioning to see, yet again, such callous violations of the most fundamental Jewish principles, such as tsa'ar ba'alei chayim (kindness to animals) and to witness this horror face-to-face with the tortured animals.
Why did you agree to do this investigation?
As someone who keeps kosher, I feel ashamed and embarrassed that the kosher food industry has been complicit in some of the worst farmed animal abuses. PETA has been instrumental in bringing about humane improvements to kosher slaughter within the United States and much of that has been due to our undercover investigations. We have also tried for years behind the scenes to get the important companies to end this hideous "shackle and hoist" kosher slaughter method in South America but unfortunately these companies were more concerned with hiding what goes in their slaughterhouses. Undercover footage is the best way to expose the truth and ultimately hold people accountable to make conditions less cruel for the animals. I desperately want kosher food to live up to the highest standards and I know other kosher consumers demand the same.
You can watch the results of the investigation below, and if you'd like to take action, please click here to write to Jewish leaders asking them to enforce tougher standards on kosher slaughterhouses like this one to ensure that these horrors never happen again.