PETA is psyched to declare today our first-ever Win It Wednesday! Every Wednesday, right here on the PETA Files, we'll have a cool prize up for grabs. All you have to do is post a comment for a chance to win. This week, we're choosing three lucky winners to take home the exclusive PETA Crow and Roach couture T-shirt, which is popping up in all the most fashionable circles these days.
Hip L.A. T-shirt company Spiders & Caviar designed and made this limited-edition shirt especially for PETA. It's super-soft, super-cute, and could be super-free!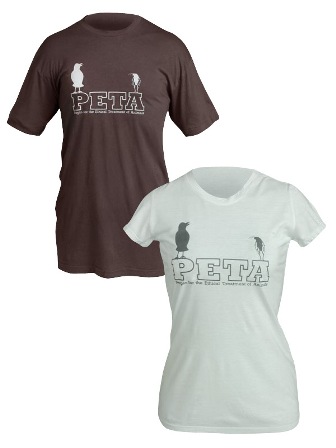 How do you win? This shirt reminds us that all animals—even less popular ones such as crows and roaches—are important. What is your favorite animal, and why? Post your answer in a comment to be entered! If you're a winner, we'll also ask you to tell us which style and size T-shirt you prefer.
The contest ends on February 25, 2009, and we'll choose the most endearing comments as the winners on February 26, 2009. Be sure to read our privacy policy and terms and conditions, as you're agreeing to both by commenting. Check back every Wednesday for new prizes. Good luck!
Written by Lianne Turner