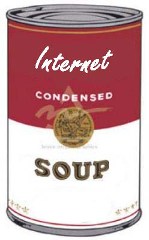 Have you voted for North America's sexiest vegetarian yet? Here's an interview with one of the finalists in Sacramento.
I had heard of this video about the "Bionic Burger" but I had never seen it until today. Gross.
Nancy from LA sent me this amazing story about a cat who must have heard about the Iams recall and took matters into her own hands, err, paws. Nancy said the cat must have decided, "Screw this, I'm going for fish and chips."
Guess which dinosaur is an ancestor to the chicken.
In case you're looking for another reason to go vegetarian . . . bacon may cause lung damage. For real.
Is your rescued dog lonely? Maybe this could help. I don't even want to think about the cleanup.
Andy Dick is funny. Check out his spoof Gap ad.
And finally, here's a great piece from ABC on our chinchilla ranch investigation.
As always, if you find something cool on the Internet that you think other PETA Files readers would like, be sure to send it to me. Thanks!