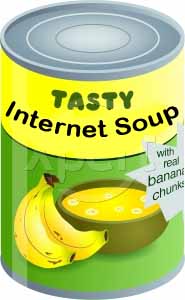 That's right, it's time for another arbitrary assortment of at least tangentially animal-related links that I'm too lazy to write a full post about. Actually, that doesn't sound very appealing at all. Ladies and gentlemen, a very warm welcome to this week's Internet Soup—a wild and wacky collection of the latest animal rights news, videos, and photos painstakingly researched by everybody's favorite PETA blogger* and served up piping hot with a pithy little introduction that's guaranteed to tantalize and amuse! Here we go:
Hopefully that'll be enough to tide you over through the weekend, and if you're in the mood for something a little more arcane, you can always check out my fictional blog—a little slice of the 17th century that my closest friends have described as "completely unreadable."
And finally, we're going to be doing a bit of maintenance on the ol' blog this weekend, so the comments may be down for a little while, but everything will be up and running by Monday. Have a good weekend!