No, no, not that kind of jacket. We're talking about the jacket of PETA President Ingrid E. Newkirk's new book, The PETA Practical Guide to Animal Rights: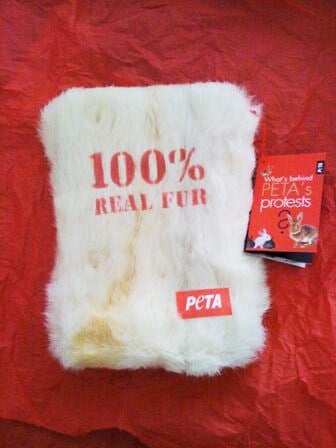 A few select copies of the book were outfitted with covers made from real fur—pieces of the more than 20,000 fur coats that have been donated to PETA by fur-wearers who have had a change of heart. It seemed like a fitting way to illustrate how far the animal rights movement has come in the past 25 years—and the kind of change that people can bring about by putting the advice in Ingrid's book into action.
And boy, did that fur jacket ever get the attention of TV and radio producers who received complimentary copies! Many of them were so intrigued that they decided to have Ingrid come on their shows to explain why a person would put a $7,500 fur coat in a box and mail it to PETA. (Hint: This video probably plays a part.)
Of course, most of the fur coats that are donated to PETA are used in "bloody" protests outside (and sometimes inside) designers' boutiques, spooky protests at fashion shows, and slightly silly "fur is a drag" parade entries. They are also torched in fur funeral pyres, donated to wildlife rehabilitators to use as bedding for orphaned and injured wildlife, and even given away to the only humans who have any reason to wear fur—homeless people and refugees of wars and natural disasters.
Have a musty old fur cluttering up your closet? Click here to find out more about PETA's fur donation program.
As an Amazon Associate, PETA earns from qualifying purchases. If you buy something after clicking the Amazon links on this page, a percentage of the qualifying purchase will be donated to PETA and help us protect more animals from exploitation.
Written by Alisa Mullins