Because we love the fur-addicted Trollsen Twins sooooooo much, we were super excited when we heard that they'd be in New York today, just blocks from the PETA office here, doing a signing of their new book, Influence. (As far as I can tell, the book has to be a series of photographs of either Cruella De Vil or Anna Wintour—not that you can tell the difference). Well, we certainly couldn't miss such a great opportunity to visit them. So, figuring that imitation is the sincerest form of flattery, we all put on our scary Trollsens masks, and off we went.
Would you believe that Hairy-Kate and Trashley wouldn't stop to talk with us? You'd think they didn't like our masks—and after we waited for them in the rain too! And what with me having gone to the same college as they did and everything (although I, ahem, graduated). Shameful, really—but what do you expect from girls who continue to promote the cruel and toxic fur industry, even after peta2 gave them the facts? Shameful, indeed.
That's right—the Trollsens never came out to say "Hi." That's OK, though—we got to talk to a lot of their fans (who knew they had fans?) and showed a lot of people the truth about the fur-loving Trollsens' "Full House of Horrors." (Can I point out that I'd never seen that video before? How had I never seen that video before?)
There's also a chance that I, in my Hairy-Kate mask, might have inadvertently terrified a small child. It's true, young man; the Trollsens are frightening. Beware.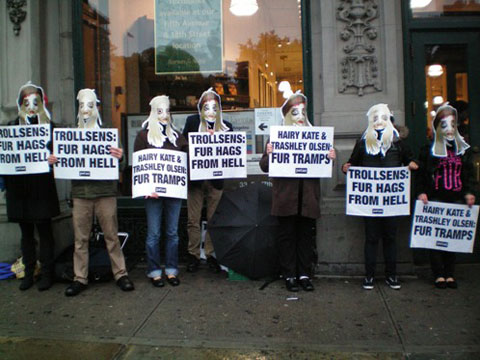 Written by Amanda Schinke