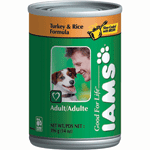 One of the Iams products recalled after animal deaths
They've been dying in the Iams labs, and now they're dying in people's homes. After an unknown number of cats and dogs died of kidney failure from eating tainted pet food, Menu Foods, which is a contract manufacturer for Proctor & Gamble's Iams and Eukanuba brands, has recalled 60 million cans of pet food from stores nationwide. As a result, Proctor & Gamble has announced a major recall of certain types of its food throughout the country. You can learn more about the story here.
Proctor & Gamble is no stranger to killing dogs: They've been doing it efficiently and professionally for years, and they've developed numerous ways of getting the job done, such as cutting out huge chunks of muscle from their test subjects' legs and leaving them to suffer for days before they die—as our investigation into Iams a couple of years ago discovered. Now, of course, boycotting Iams has taken on a whole new meaning since the company has shown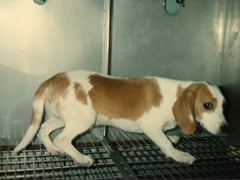 One of the dogs made to suffer in Iams' tests
itself to be a real danger not just to the animals who suffer and die in silence (quite literally—dogs in Iams labs have been debarked so as not to bother the technicians with their cries for help) in Proctor & Gamble laboratories, but to the millions of households that feed their animals Iams food. You can find a list of pet-food companies that don't test on animals here, and I'll be sure to keep you updated when I get more information about this story.