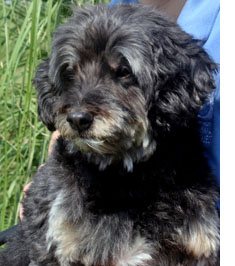 A devoted rescued dog is just what the
doctor ordered.

It turns out that the hypoallergenic dog fad is something to sneeze at. Henry Ford Hospital's Department of Public Health Sciences analyzed dust samples from homes with alleged Benadryl-banishing pups and homes with regular dogs and found no difference in allergen levels.
Dogs like poodles, bichons frisés, and Labradoodles are marketed as "hypoallergenic" because they shed less (their long hair takes longer to grow to its full length and fall out). But of course, these dogs still shed, shake, scratch, and do all sorts of other dog activities that release dander. According to the chair of the Division of Allergic Diseases in the Department of Internal Medicine at the Mayo Clinic, "There is no such thing as a hypoallergenic dog breed …"
Rather than supporting breeders and puppy mills, which rake in money with no thought for the millions of dogs in shelters literally dying for a good home, people who want to share their lives with a dog should adopt a good old-fashioned mutt and experience a whole different type of watery-eye moment.

Written by Michelle Sherrow