Update: March 11, 2019
Tabitha—one of the many turkeys illegally released by hunting enthusiasts in the province of New Brunswick, Canada—was finally captured by a group including a longtime PETA supporter after a month of rescue attempts.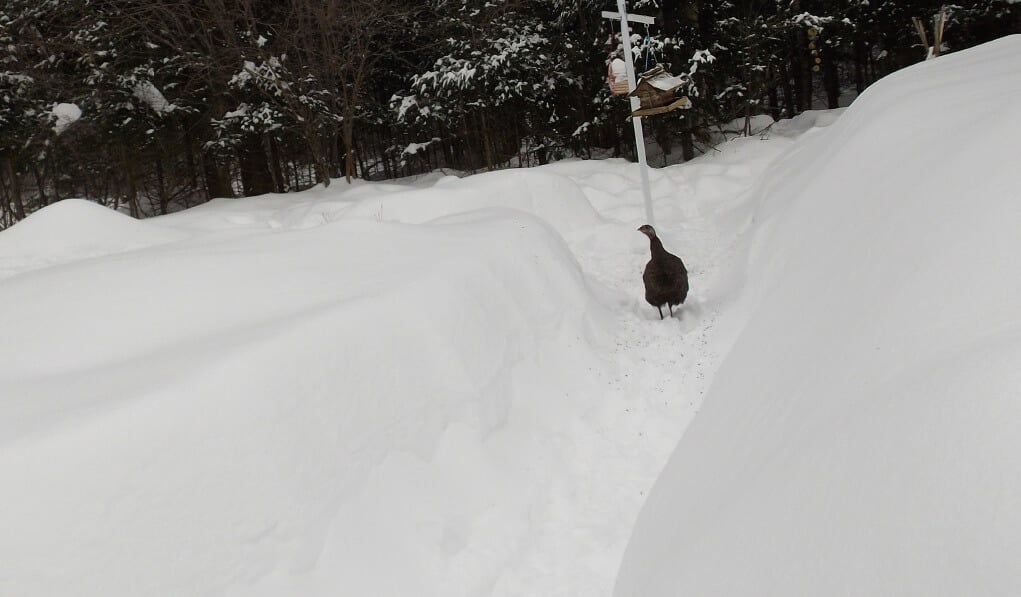 Tabitha turned out to be a bright and savvy bird who evaded capture many times, mostly by flying up into the tops of pine trees. But after spending one night in a warm barn, she's on her way to the Atlantic Wildlife Institute, where she'll be able to enjoy a much brighter and safer future.
She is one lucky turkey. Many of the others released illegally by hunting groups and their supporters across the province have already died—victims of New Brunswick's severe winter, starvation, and dangerous highways.
For years, the Department of Energy and Resource Development has ignored its own law that states that it's illegal to release these birds—and the agency has neglected to prosecute those who are releasing them. If Energy and Resource Development Minister Mike Holland's dream of creating a hunting season materializes, many more stories like this one will play out in New Brunswick's rural areas.
This isn't just a tragedy for turkeys—it's also a problem for rural residents and the tourist industry, who find cars scratched by turkeys' feet and decks covered with their droppings, and for farmers and gardeners, whose crops are eaten by the birds.
The people of New Brunswick say NO to the proposed turkey-hunting season.
Let's keep our forests safe for wildlife and humans. Read below to find out how you can help.
Originally published January 17, 2019:
In a remote area of New Brunswick, Canada, turkeys are being hit by cars, starving, and dying because of the harsh winter climate. How did these birds—who aren't native to the province—end up either dead on the roadside or searching for handouts in the deep Canadian snow?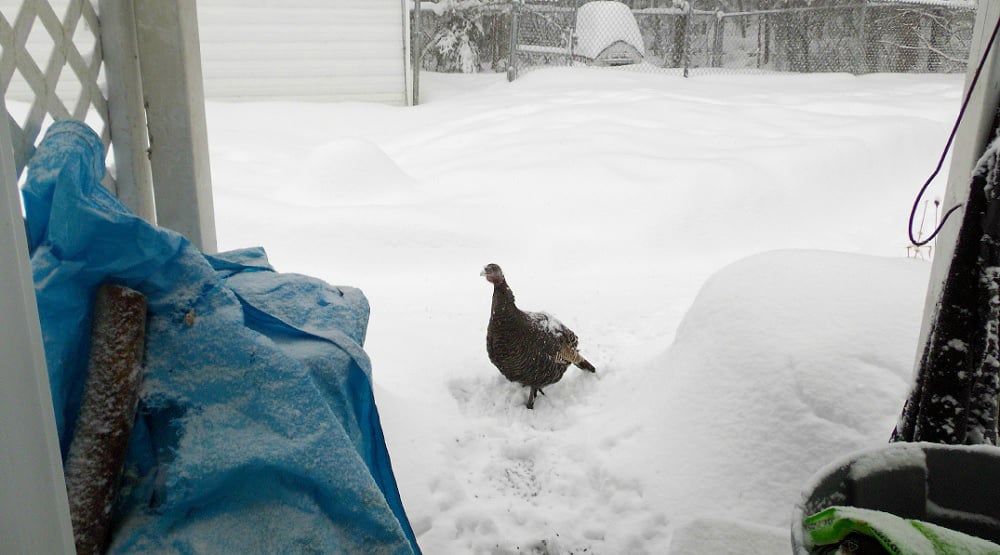 Mary delaValette
When PETA friend Mary delaValette saw two turkeys strutting through her yard, she immediately knew that the non-native birds could be linked to something devious.
For one thing, they appear to be anything but wild. They've made the rounds in the neighborhood, picking at birdfeeders and even coming to delaValette when she's called them. She claims that someone deliberately released captive-bred turkeys in New Brunswick.
Why? "Because they want to start a hunting season," she told CBC News.
Experts agree that humans could very well be attempting to inflate the province's turkey population artificially in order to justify killing the animals during a licensed hunting season. Jim Wilson, a naturalist studying the origins of turkeys in New Brunswick, told CBC News that there "are almost certainly birds … being released into the wild by people."
He emphasized that these turkeys will endure a slow death from starvation and exposure.
For years, bloodthirsty hunters in New Brunswick have pushed for a turkey hunt.
The province's turkey conspiracy may be yet another ploy by hunters to manipulate and increase animal populations in order to satisfy their lust for a violent blood "sport."
Releasing "captive exotic" animals is illegal in New Brunswick. But Minister of Energy and Resource Development Mike Holland—an ardent turkey hunter himself—has refused to give any specifics about charging anyone caught illegally releasing turkeys.
Holland—the founder of the Canadian Wild Turkey Federation—has made his opinion about killing sensitive animals for "sport" clear: According to CBC News, he said that it's "ridiculous" that New Brunswick doesn't have a turkey hunt.
What You Can Do
Killing animals where they live and raise their families for a cheap thrill is cruel and cowardly. It takes a small person indeed to kill living beings—who are minding their own business—just to feel more powerful and in control. Hunting turkeys is senseless violence, and in New Brunswick, it's illegal.
Contact Holland and urge him to investigate who is releasing turkeys in New Brunswick and ensure that there are no turkey hunts in the future.
Contact Information for Minister of Energy and Resource Development Mike Holland
Phone: 506-453-3826
Fax: 506-444-4367
E-mail: [email protected]