News of a hunter who was impaled by a dead elk's antlers may make you believe in karma.
Gary Heeter was apparently dragging the dead elk up a steep hill behind an all-terrain vehicle when the ATV flipped over. The 69-year-old was sent flying backward and landed on the animal's antlers.
Members of Heeter's hunting group quickly administered first aid to stop the bleeding and waited for medical help. The man was then airlifted from the woods to a local hospital. He was last reported to be in stable condition.
We hope his near-death experience has opened his eyes to the cruelty of hunting. Unlike in his case, helicopters aren't flying into the woods to save bleeding animals from bullet or arrow wounds. Many animals endure prolonged, painful deaths from infections or blood loss when they're injured but not killed outright by hunters.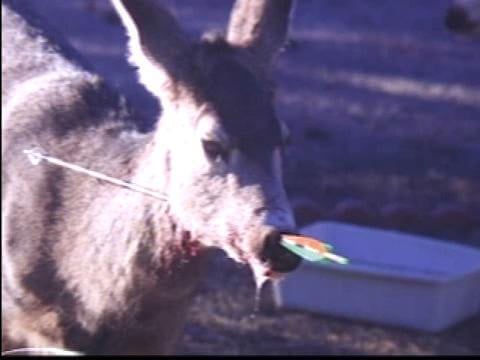 Often, hunters' intended targets aren't the only ones who suffer. Hunting accidents injure and kill horses, cows, dogs, cats, hikers, and other hunters. According to the National Shooting Sports Foundation, thousands of injuries result from hunting in the U.S. every year—and that number includes only incidents involving humans.
Help Stop the Bloodshed
To combat hunting in your area, post "No Hunting" signs on your land, form an anti-hunting organization, protest organized hunts, and spread deer repellent or human hair (from barber shops) near hunting areas. Call the National Parks Conservation Association at 1-800-628-7275 to report poachers in national parks.