More happy stories are coming in about the animals who were rescued from life in hell inside Professional Laboratory Research Services (PLRS). Here's an e-mail from Bill and Sarah Cassani:
"Two weeks ago [we] adopted [Hugs,] one of the beagles rescued from the research laboratory in North Carolina. [We] just wanted to thank you for exposing labs like those and saving so many animals. Our new little family member is a wonderful addition to our home. It's great to know she has escaped the horrors of that lab and is now in a loving home with lots of attention, space, toys, and treats. She has adapted well in such a short time and is ready to explore so many new things she's never experienced in her life. She's learned how to go up and down stairs, play fetch, swim, and she's already caught on to basic house training. She also gets along great with our other dog, and now they're play buddies. I just wanted to share that with you all and thank you all for saving those animals."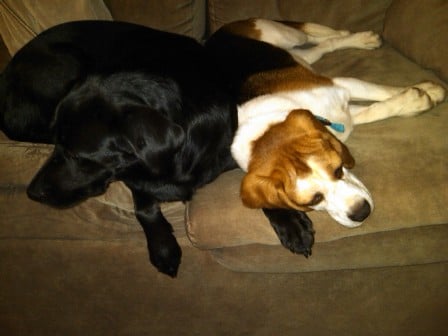 Hugs is already fast friends with Bill and Sarah's other dog, Jezebel, who herself was adopted from the Portsmouth Humane Society.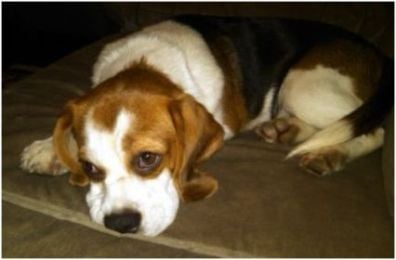 The unbearable cuteness of being.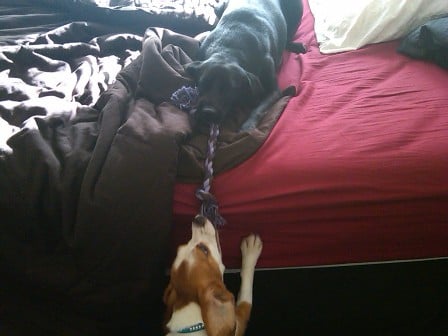 Despite her ordeal, Hugs is up for any adventure. On a recent trip to the PETA dog park, she watched other dogs jump into the river and decided to give it a try too!
And there are more updates from the SPCA of Wake County, which sent us this photo of Andromeda (the star kisser in the SPCA's "animal testing" video) enjoying the handmade catnip toys sent by the PETA staff.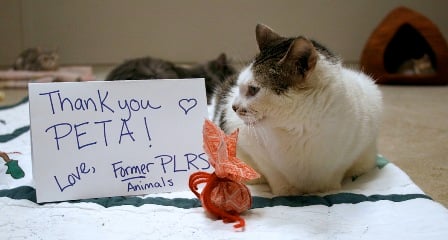 The SPCA also provided video evidence of how an orange tabby from PLRS got his name, "Perry Como":
https://www.youtube.com/watch?v=HZ_rPawMpHE
The happy endings don't stop there. After seeing a story about the PLRS animals on the news, some of my neighbors went down to the animal shelter to inquire about adopting one of them. All the beagles were already spoken for, but the family spotted another dog they couldn't resist (I can personally vouch for his cuteness credentials). So in addition to being poster kids for not experimenting on animals, the PLRS dogs and cats are also ambassadors for shelter animals, spreading the message to always adopt, never buy.
Written by Alisa Mullins