After years of PETA complaints against notorious television and movie animal exhibitor Sidney Yost—who has made headlines for beating animals with sticks and feeding them contaminated food—the Hollywood animal handler can no longer supply or handle animals for film and television productions.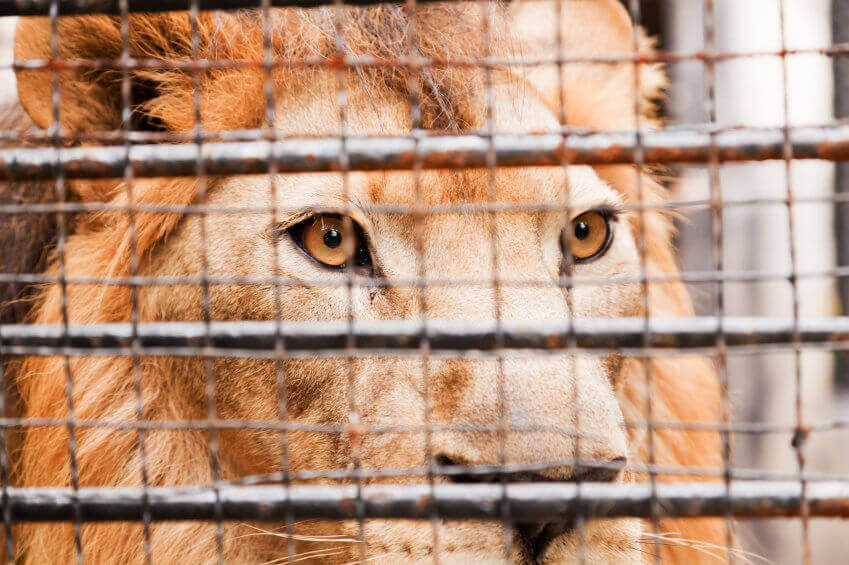 © iStock.com/ymgerman
According to public records obtained by PETA, the U.S. Department of Agriculture (USDA) has revoked Yost's license to exhibit animals and slapped him with $30,000 in fines for more than 40 violations of the federal Animal Welfare Act that occurred between 2008 and 2010.
Every time Yost was caught abusing animals, we relentlessly alerted TV and movie producers of his cruelty.
Yost—who did business as Amazing Animal Productions, Inc.—has credits that reportedly include Logan, Get Out, 12 Years a Slave, The Hunger Games, and Lee Daniels' The Butler, among many others. For roughly 20 years, we've documented his shoddy habits and those of Amazing Animal Productions, which include a lawsuit settlement in which he agreed to relinquish custody of four chimpanzees and cease working with great apes after facing allegations of beating chimpanzees in his care. We made sure to thoroughly share these details with producers and directors in the industry.
As stated by the USDA, Yost and his employees repeatedly used physical abuse to handle animals, including a monkey named Rowdy and a lion named Romeo. Physical abuse was also used to handle wolves, and the handlers used sticks to strike tigers.
In the USDA's initial decision, the judge stated that Yost's "use of a wooden cane and the threat of the use of it were too commonplace."
Authorities also noted that Yost repeatedly allowed the public to have direct contact with big cats, wolves, and primates and failed to provide sufficient barriers—a decision that proved deadly for at least one animal. In 2009, a toddler was bitten and injured by a wolf named Nova, who had not been vaccinated for rabies and was, therefore, euthanized after the incident for testing purposes. She did not test positive for the disease.
Animals aren't actors. Period.
There's nothing glamorous about showbiz for primates, big cats, bears, and other animals used in films and on television. They're often kept in extreme confinement and deprived of all that is natural and important to them, including companionship with others of their kind and a spacious, enriching environment.
BREAKING: The #Hollywood trainer caught viciously whipping young tiger charged with cruelty! https://t.co/1xSttC0l0Xhttps://t.co/NJ2OUQKwVD

— PETA (@peta) April 13, 2016
Animals forced to perform are typically subjected to rigorous and abusive training methods to coerce them into completing stressful, confusing, uncomfortable, and even painful acts. Training methods can include beatings, the use of electric prods, food deprivation, and drugging.
Help PETA Save Animals Forced to Perform in Hollywood
Never buy tickets to any movie or live performance that uses wild animals. Tell companies you won't support them if they use live animals, and make sure that your friends and family know to do the same. When their revenues take a hit, animal abusers take notice.
Although Yost is permanently barred from supplying animals, some productions with animals who suffered from his abuse are still in circulation. Tell Suburban Auto Group to pull a television commercial featuring a young chimpanzee who was provided by Yost.