With the approach of holiday travel, drivers nationwide are anticipating pain at the pump—but it will sting a bit more for some motorists in Madison, Wisconsin, where  gas stations in high-traffic areas are now displaying PETA ads with a shocking photo taken inside a University of Wisconsin–Madison (UW) laboratory in which dozens of cats were abused and killed as part of a continuing taxpayer-funded experiment.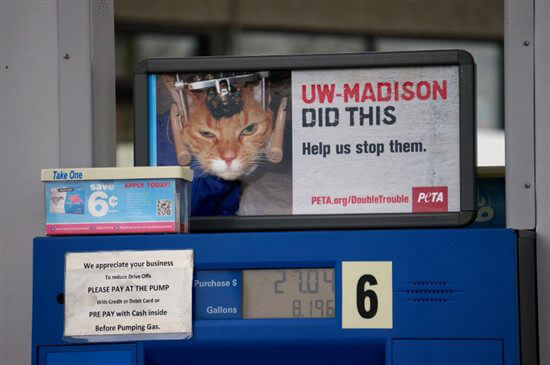 Truth Will Out
The ads show a gentle tabby named Double Trouble restrained in a bag with a steel post screwed into her skull. It's just one of the photos that PETA obtained following a three-year legal battle against UW. They were taken by the experimenters as part of an appalling project in which cats also have steel coils implanted in their eyes and electrodes inserted into their brains, are starved for days at a time, and are intentionally deafened.
Following complaints by PETA and a former UW veterinarian, the National Institutes of Health and the U.S. Department of Agriculture are investigating apparent violations of federal animal welfare regulations and misuse of federal funding related to these horrible experiments. After UW officials fought for years to keep the photographic evidence of Double Trouble's wretched life and protracted death secret, PETA's ads are showing their friends and neighbors exactly how cats are tormented and killed behind the school's laboratory doors.
What You Can Do
Learn more about UW's shameful secrets, and please urge the federal government to stop funding this primitive and lethal experiment.