Former President Bill Clinton is marking his 67th birthday today, and PETA is helping him celebrate by adopting a chicken in his honor. Ellen was rescued from an egg factory farm and now lives at Kindred Spirits Sanctuary in Florida. We've sent Clinton a framed certificate with a "glamour shot" of her as a birthday gift.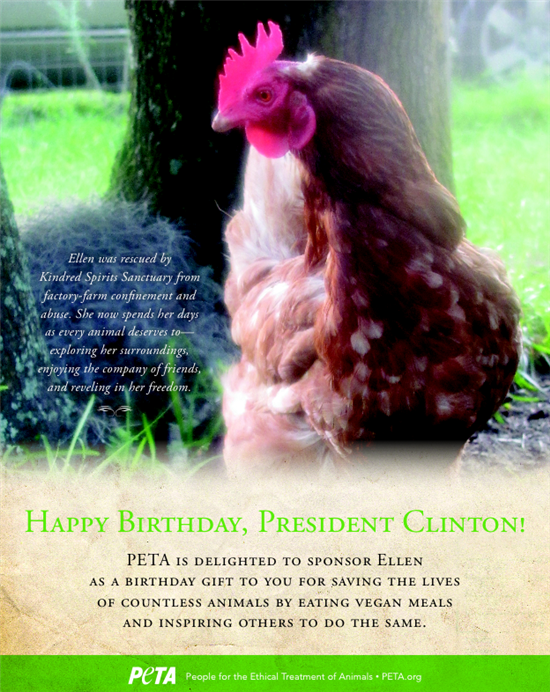 Clinton has saved countless hens like Ellen since becoming an outspoken proponent of vegan eating in 2010, after he underwent emergency surgery to insert a pair of stents, a complication of his quadruple bypass surgery in 2004.
After Clinton's bypass surgery, PETA sent him a vegan care package. Then in 2007, PETA Vice President Dan Mathews was seated next to him at a dinner party and the two spoke at length about the health benefits and ethics of vegan eating. Mathews followed up by sending Clinton Dr. Caldwell Esselstyn's book Prevent and Reverse Heart Disease. After consulting with Dr. Esselstyn as well as Dr. Dean Ornish, Clinton decided to "pick the diet that I thought would maximize my chances of long-term survival."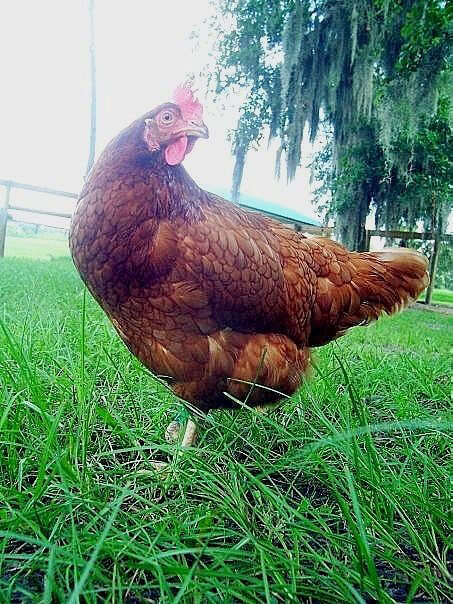 Since then, he has lost more than 30 pounds, and he declares in the current issue of AARP the Magazine, "I have so much more energy now! I feel great."
Not only has Clinton saved animals directly by not eating them, he has also saved them through his example—everyone from the Rev. Al Sharpton to Michelle Pfeiffer cite him as an inspiration for going vegan. He's also encouraging young people to eat better through his Alliance for a Healthier Generation, a project that promotes good nutrition and exercise among children and teens.
So happy birthday, Mr. President, and may you and the animals you save celebrate many more.