Sorry Canadians. I know I'm a day late on this one, but hopefully you'll forgive me since I'm bringing you this amazing shot of PETA activists Lucas Soloway and Andree Silcok, after they snuck into Montreal's Canada Day Parade yesterday. They look like they're having a blast, and check out the people in the crowd; they can't take their eyes off of them. Oh, and in case you're wondering, I think the guy talking to them is asking if there is room inside the banner for him too . . .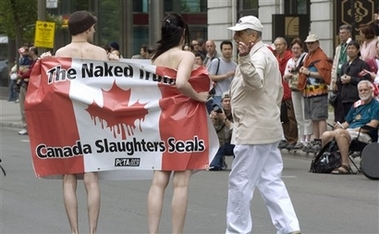 AP PHOTO/Peter McCabe, CP
The coolest thing about this picture is that despite not having permission beforehand, the two were allowed to complete the whole parade, reminding thousands of Canadians that it's time to stop the cruel seal hunt.
Way to go Lucas and Andree!