To celebrate animals this St. Patrick's Day (and beyond), PETA's placing a head-turning, traffic-stopping ad on buses and bus shelters in northeastern U.S. cities. Our bold message may just make holiday revelers do a spit take: Beer is healthier than cow's milk, and of course, it's vastly more humane.
Beer vs. Milk: A Toast to Your Health
Consumption of dairy has been linked to serious health problems, including cancer, heart disease, diabetes, and obesity—as well as to acne, excess mucus, and symptoms of lactose intolerance, such as flatulence. There is even evidence that dairy causes osteoporosis—rather than preventing it—by depleting bone mass.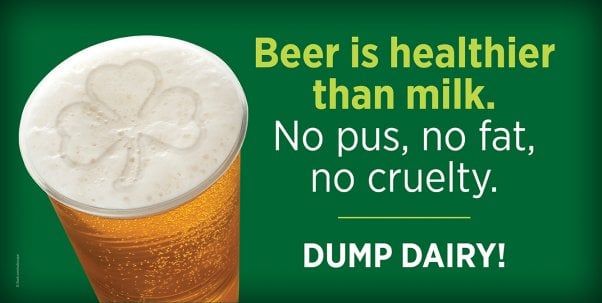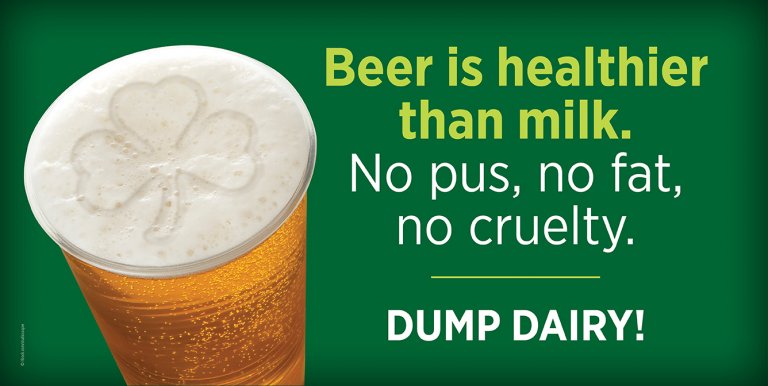 Beer has been shown to help keep bones from going brittle, among other health benefits. According to Harvard Medical School, more than 100 prospective studies show that moderate alcohol consumption can lower the risk of heart attacks, strokes caused by clotting, and death from all cardiovascular causes. In addition, moderate drinking may help prevent gallstones and type 2 diabetes.
Also, drinking beer is raising a glass to the environment, because grains don't belch methane. Alcohol in moderation can be good for you, but there's no way to consume dairy responsibly when it causes cows to suffer, damages the environment, and harms your health.
What Cows Endure in the Dairy Industry
In addition to damaging our health, dairy-food consumption contributes to animal suffering on a massive scale. Calves are typically torn away from their mothers within a day of birth, which causes them both extreme distress. Mother cows can be heard calling for their calves for days. Male calves are confined to cramped veal crates or barren feedlots, where they are fattened for slaughter, and females are sentenced to the same sad fate as their mothers.
Each person who goes vegan saves nearly 200 animals every year, dramatically shrinks their carbon footprint, and helps prevent future epidemics and pandemics: SARS, swine flu, bird flu, and COVID-19 all stemmed from confining and killing animals for food.