An early version of the "Meet Jack" picture for the PETA Files had more of a "getting things done!" feel to it. In the end, we decided to go with "simpering idiot" instead.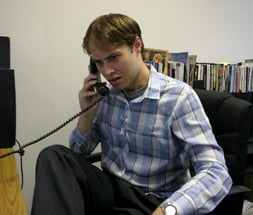 Some of you may have noticed that recent posts on these here PETA Files have been written by people who are not me. If you didn't notice that, or had already repressed the memory of a time when most posts were in fact written by me, you may be excused from reading this particular entry. There will not be a quiz on this material.
For everyone else, I wanted to take a very few minutes of your time to say thanks for sticking around during the last year or so. It's been a fantastic experience being a writer for the PETA Files, and I'm very much looking forward to settling into being a reader. In fact, I have every intention of leaving longwinded, self-important comments on every post until Christine (who, bless her heart, has taken over moderating duties) politely begs me to stop.
While I still have a soapbox, I figured this would be a good time for a quick retrospective in the form of my Top 5 moments working at this amazing organization, so here goes:
Since coming to PETA four years ago, I have:
Performed search-and-rescue operations for abandoned animals in post-Katrina New Orleans.
Stood, naked, painted like a Union Jack, in front of the British embassy in DC to protest the Queen's Guards' bearskin hats.
Toured the country with The Alkaline Trio on behalf of peta2.
Starred in a special "episode" of Full House that was featured on The O'Reilly Factor.
Written (roughly) 1,200 entries and approved more than 30,000 comments for this blog. Thank you to everyone who's been a part of that.
The good news is that this is the last week that any of us will have to put up with that nauseatingly smug version of me quite clearly sleeping on the job up in this blog's banner. Word on the street is that (fittingly enough) I am being replaced by a chicken.
And I'll leave you with that thought. See you in the comments!
–Jack