When a PETA video exposé revealed how tens of thousands of crocodiles in Vietnam suffer agonizing, violent deaths to make "luxury" leather bags sold around the world, it created a social media storm of concern and outrage.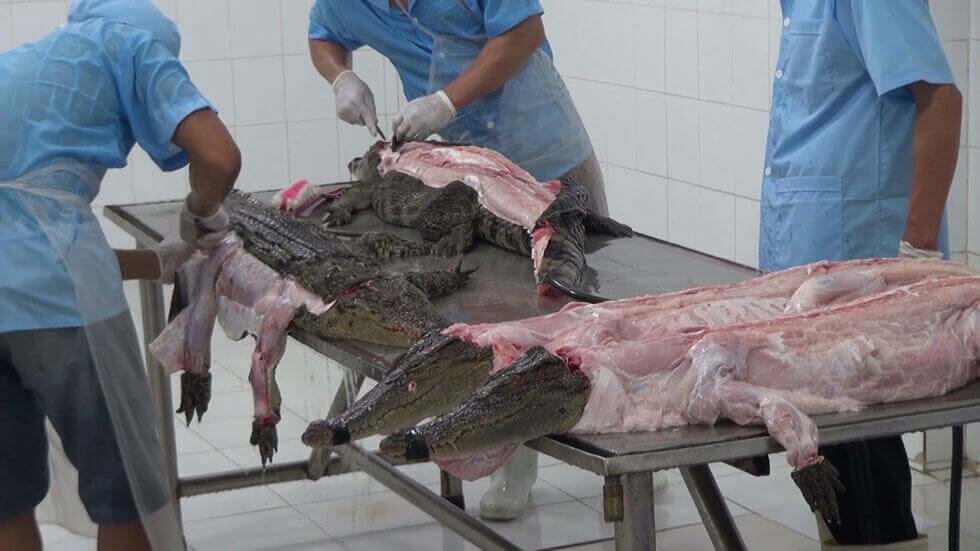 For millions of people, this was possibly the most disturbing video that they'd ever seen.
In a few short weeks, the eyewitness footage—which shows that live crocodiles are held down as their necks are cut open and metal rods are jammed down their spines—was watched over 32 million times on Facebook. The video also garnered nearly 220,000 reactions and over 560,000 shares. Share it with friends now:
As the video spread, our Facebook page received more than 100,000 new "likes," meaning that people who may have missed our content previously are now connected with us to help animals every day.
The footage was viewed nearly 70,000 times on Instagram and prompted over 1,500 horrified comments as well.
We continued our viral blitz, sharing heart-wrenching facts about two farms that supplied skins to major global brands such as LVMH, the parent company of Louis Vuitton. You can write to the company now:
Imagine life like this. A farm that has supplied skins to @LouisVuitton keeps crocodiles in spaces narrower than the length of their bodies. pic.twitter.com/xYZ6v903j0

— PETA (@peta) January 4, 2017
Every 3 months, 1,500 crocodiles are slaughtered at a farm that has supplied skins to @LouisVuitton. Bags & wallets are NOT worth it.

— PETA (@peta) January 4, 2017
And we've made sure that all of our concerned readers know how they can help crocodiles killed in Vietnam and around the world. So far, over 77,000 people across all platforms have taken action!
Urge LVMH to shed exotic skins from Louis Vuitton and all of its brands. https://t.co/PmRb7NWULD

— PETA (@peta) January 10, 2017
A moment of your time will make a huge difference for these forgotten animals.
Please join compassionate people around the globe in speaking out against this cruelty.
Want to do more for crocodiles in Vietnam? Share the video, tweet about the abuse, and never buy exotic animal skins.