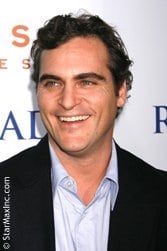 Yesterday was the official first day of summer, but PETA's Web site has been scorching for days, thanks to our Sexiest Vegetarian Celebrity contest. We're into the final heat—voting ends this Wednesday, June 23—so if you haven't weighed in, don't let those lazy, hazy, crazy days of summer get you just yet. Put the pedal to the metal and vote now to help us choose this year's Sexiest Vegetarian Celebrity. Here are some of the current frontrunners:
I know it's tough to choose just one man and one woman, but if I can do it, so can you. My personal faves: The Howard Stern Show cohost with the infectious laugh, ravishing Robin Quivers, and the achingly handsome actor Joaquin Phoenix. Now go cast your vote for two sexy veggie celebrities to help us decide the Sexiest Vegetarian Celebrity of 2010.
Written by Karin Bennett
*We all know that you can't be a meat-eater and call yourself an environmentalist.