Sticking up for rats—who are sensitive, intelligent, and nurturing—has always been high on our agenda, although not everyone understands that these dear little mammals are worth caring about … yet.
There is hope, however. For the last 14 months, we've been funding two scientists at the French National Institute for Agricultural Research (INRA) who are formulating a hybrid species that will make rats less despised. You may remember when we lodged a complaint against the INRA for the glow-in-the-dark rabbit, but sometimes good things come from bad. The rabbit genome is nearly identical to that of the rat, and we have found a way to put this science and experience to good use. Using the same zygote microinjection process (to which we still object!) that was used to create the glow-in-the-dark rabbit, these geneticists can isolate the gene that's responsible for bunnies' cotton-ball tails and then insert it into fertilized rat egg cells. The results are truly phenomenal, producing a genetically engineered rat whom no one will want to harm: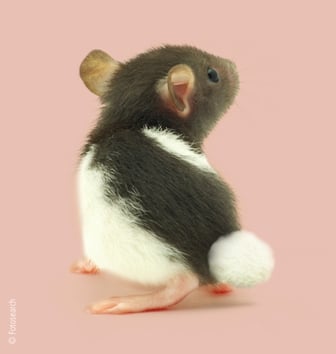 "People are almost certain to be kinder to a tiny mammal with a powder-puff tail," says PETA President Ingrid E. Newkirk. "Not only would this pay off in cities that kill these animals with gut-wrenching poisons, it would also make it harder for lab assistants to force-feed toxic chemicals to them or for homeowners to watch them struggle in cruel glue traps."
Rats with a dominant gene for bunny tails can easily be released to breed with wild rodents in New York and other major cities, creating a "rat pack" whose charms no one will be able to resist.
Written by Logan Scherer