Check out the gaggle of nearly naked PETA members who converged on the Spanish Embassy in Washington D.C. yesterday in a warm up for PETA UK's sixth annual Running of the Nudes in Pamplona, Spain, to protest the cruelty of the Running of the Bulls. OK, so I guess this demo is more like the Running of the Almost Nudes since they were all rocking underwear, but still . . .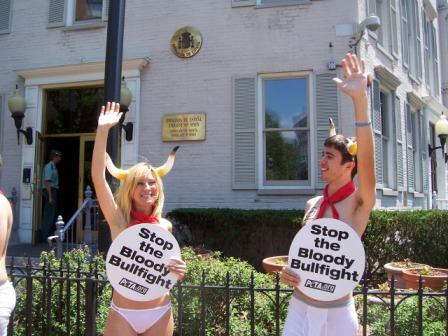 Of course in the real Running of the Nudes, most of those participants roll buck naked, save for running shoes and the red scarves that are traditionally worn during the bull run. And lots of body hair. Come on, it is in Europe after all.
Here's the video from last year's event.
Attention: Only watch this video if you are over 18 and if seeing naked people protesting cruelty to animals is legal where you live (the lawyers made me say that).
Click here if you want to get in on this year's run in July.