This rooster from the property was wearing an ankle tag when he was found.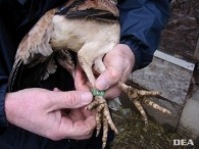 A collaborative effort involving multiple law-enforcement agencies has resulted in the takedown of what may just be the largest cockfighting ring in U.S. history!
According to information we received from the Drug Enforcement Administration (DEA), the DEA-led effort was intended to lead to the confiscation of drugs, not chickens. Officials had been working to gather information on the Gulf Cartel, a Mexican drug trafficking organization. They were following the actions of the alleged smugglers when they stumbled upon the cartel's other dirty business: a massive cockfighting ring.
These were the houses in which the roosters were forced to live.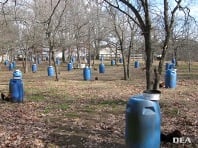 Kill or be killed may be the chosen mantra for drug lords, but for roosters who are imprisoned and forced to fight to the death, it's not a choice. Rather, it is a cruel existence that is nearly always marked by constant injuries and a painful death.
Thanks to the powers that be, though, the suspected cockfighters were caught red-handed (white-powder–handed?). Eleven individuals were arrested near Nashville, Tennessee, for their involvement, and 30 more arrests took place in Texas, Mississippi, Nevada, Kentucky, North Carolina, and Oklahoma. And, best of all, those birds are out of the ring for good.
Written by Jennifer Cierlitsky