Not to be outdone by PETA India, the folks over at PETA Asia-Pacific have certainly been busy lately—in the last week, they've had three tremendously successful demos!
First up, we have three activists in Seoul, Korea, who lay outside a fur store in "bloody" fur coats, caught in a steel-jaw trap. Calling attention to the cruel methods used to trap wild animals for fur, their message read: "Animals Suffer in Traps. This Is Fur."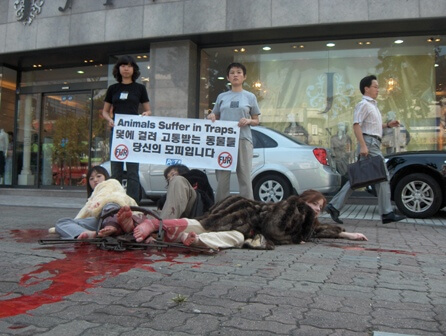 A few days later in China, two of PETA Asia-Pacific's sexy Lettuce Ladies asked passersby in Guangzhou to "Turn Over a New Leaf—Go Vegetarian." As you can see from the pics below, they got a lot of attention! Not bad for the first PETA Asia-Pacific demo in China in five years, don't you think?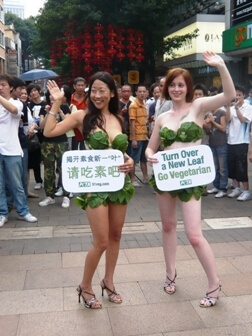 Most recently, Santa spread the joy of soy in Manila and Hong Kong, courtesy of PETA Asia-Pacific. In light of the much-reported melamine-tainted–milk scandal, which has killed at least four babies and sickened 53,000 others, jolly old Saint Nick is working with PETA Asia-Pacific to inform milk-drinkers that cow's milk is also loaded with cholesterol, fat, and other contaminants, including cow's blood and pus, pesticides, hormones, and antibiotics. Over time, these can be just as dangerous as melamine.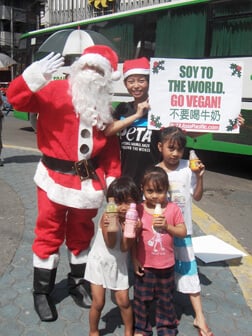 Kudos to our friends at PETA Asia-Pacific for the string of amazing demos. We can't wait to see what they'll do next!
Written by Amanda Schinke