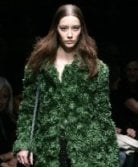 Prada girl showing off a piece from the "Fake Classic" line
Well, I guess since Prada is Italian and all, it would really be Part Due, but that's not the point here . . . The whole "Prada Bored With Fur" story is all over the place, especially in the fashion press.
The one from The Dallas Morning News is my favorite, but I must say that the NY Post gets extra credit for including a photo of the fur hag editor of Vogue Anna Wintour with pie on her face.
Ugly ugly Anna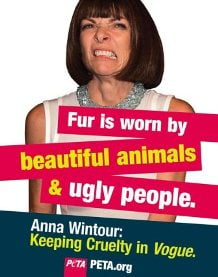 I really believe the tide has turned on this issue. Prada shows its first fur-free line in decades, other heavy hitters like Calvin Klein, Marc Bouwer, Betsey Johnson, Stella Mccartney, Kenneth Cole, and Ralph Lauren are all fur-free now, and huge retailers like J.Crew, Limited Brands, Ann Taylor, Banana Republic, and The Gap refuse to sell real fur.
It's a tough time to be a fur pimp.